Bestsellers reSort: Organize Shopify Products & Collections Your Way

By

Kelli Harris

Reviewed by

Joel Taylor
Published June 1, 2023.
Our team tests eCommerce apps and publishes reviews that are unbiased and not influenced by payments we receive from some of the app developers.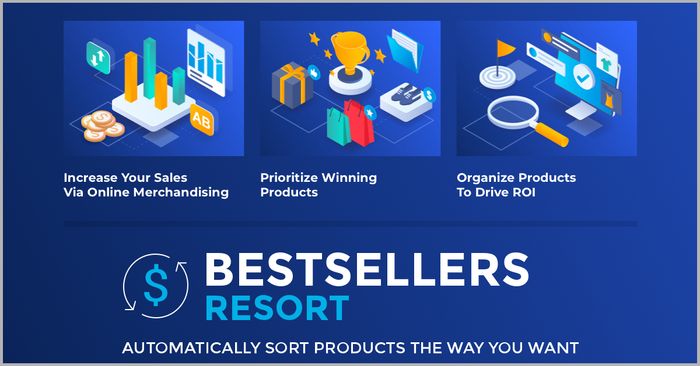 Shopify store owners know very well that you have limited time to hold consumer interest and showcase the most relevant products. So how do you compete for consumers while their attention spans diminish?
Product sorting and product relevance can make or break conversions on your store. With the advanced online merchandising capabilities of Bestsellers reSort by EGNITION, you can quickly and automatically organize your products by adjusting their order to your needs and your buyers' preferences, generating more sales.
The app organizes collections based on a wide range of rules that can be easily configured to automate your product collections across various locations.
Bestsellers reSort's Main Features
You have the flexibility to promote products manually and manage your inventory by setting "rules," such as the following:
"Featured" Products

Highlight your featured items by putting them at the top of a collection. Promote seasonal or special items and set different products per collection.

Promote New Products

Add new arrivals to the top of a collection for a specific time.

Promote Back-In-Stock Products

Set reSort to consider these products as new and specify quantity or quantity change.

Order Products by Tags

You can place tagged products within a collection in the groups and orders you need.

Out-Of-Stock Products

The app makes it straightforward and automatic to sort products by revenue or sales, so pushing your out-of-stock items further down your product catalog is a breeze.
Additional Sorting Capabilities
You can also automatically sort and order products by:
Revenue generated (for X number of days)

Number of sales (for X number of days)

Gross profit

Discount (% or $)

Inventory QTY

Date (publish or creation date)

Product title

Product price

Product views

Random products order

Keep manual sort order and apply your own sorting rules
Bestsellers reSort Pricing
Bestsellers reSort offers six different pricing plans, all of which come with a 7-day free trial:
Bronze Plan
The Bronze Plan is free to install and suitable for stores with up to 49 products and 99 collections. This plan includes the following:
Automation

You can sort by revenue/sales/tags

You can sort by publish/creation date

You can push sold-out products down your product collections

Access to other custom sorting rules

24/7 Support
Silver Plan
$6.99/month
You get everything in the free Bronze Plan, but it would fit a larger store with up to 499 products and up to 99 collections.
Gold Plan
$12.99/month
Again, you'll get all the other features listed in the Silver Plan, but with an upgrade to 4,999 products across 99 collections.
Platinum Plan
$16.99/month
This plan is suited to stores with up to 9,999 products and 100–300 collections. It includes everything in the Gold Plan, too.
Rhodium Plan
$22.99/month
You get all the other features listed in the Platinum Plan, but with an upgrade to 10,000+ products across 300+ collections.
Palladium Plan
$34.99/mo
This is the most comprehensive plan Bestsellers reSort offers and is best for stores with 25,000+ products and 500+ collections, including all the features listed in the Rhodium Plan.
Bestsellers reSort Customer Reviews
Numerous app users express that Bestsellers reSort saves them hours of time, as organizing collections is automatic—extremely useful for stores with thousands of products. The app allows customers the freedom to showcase the right products and keeps collections relevant to ever-changing buying patterns.
Customer support is friendly, fast, and helpful, and the app regularly releases new updates and improvements based on customer feedback.
​​To see if Bestsellers reSort is right for your shop, visit their website to learn more or to start your 7-day free trial.