9 Best Discount Notification Apps for Shopify: Easily Stay Updated in 2023

By

Jay Friedmann

Reviewed by

Michelle Meyer

Fact-check by

Romi Hector
Updated May 15, 2023.
Our team independently researches and recommends the best products and services. We publish reviews that are unbiased and not influenced by payments we may receive from advertising partners.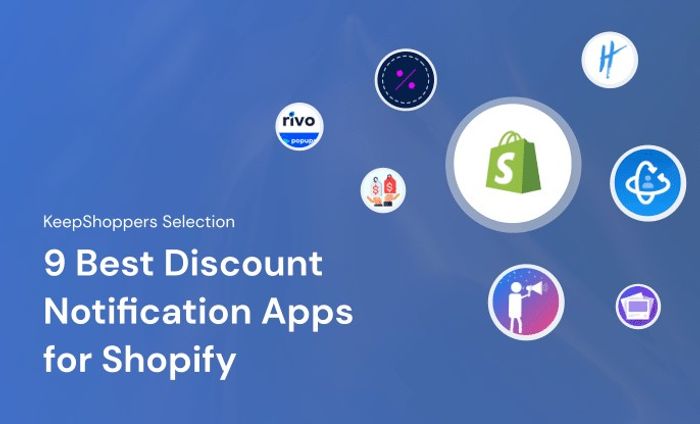 Online shoppers can't resist a discount—but they need to know about it. In fact, discount notifications can increase your conversion rates by up to 28%. The right discount notification app can encourage your customers to make a purchase by offering incentives and keeping them informed about new products and promotions.
However, with so many apps available, it can be overwhelming to choose the right one. Never fear! We've done the legwork and narrowed down a list of the best discount apps for Shopify stores to help you choose.
Our Top Picks for the Best Discount Notification Apps


1. Best Overall


KeepShoppers Score: 9.9
Key Features
Generate personalized email discounts

Use unique rules to calculate discounts

Easily check and adjust discounts

Streamline your customer service
Order to Discount lets you offer discounts to your customers based on their order history. It analyzes their purchase history and automatically offers discounts to incentivize them to return and buy more. It creates custom discount rules, sets discount percentages or fixed amounts, and tracks discount campaigns' performance.
Why We Liked It
We love Order to Discount's adaptability. You can create custom discount rules that apply specific discount percentages or fixed amounts to an order based on past purchases. It's easy to install and integrate with an extensive dashboard that provides detailed reporting and analytics. So, you can track discount campaigns and make data-driven decisions to optimize your marketing strategies.
» Read our full Order to Discount review for more information
2. Best for Upselling
KeepShoppers Score: 9.7
Key Features
Time-sensitive discounts

In-cart notification bar for upsells

Tiered discounts and pricing
Shopacado - Volume Discounts helps you create customized pricing rules and discounts based on quantity and specific products. It offers tiered pricing, discount codes, and real-time notifications to help you upsell products.
Why We Liked It
We appreciate that Shopacado helps you target customers so far down the sales funnel. The app sends in-cart upsell messages to let your customers know they can get a discount by adding more to their cart. It's ideally placed to give you more upselling opportunities plus custom discounts to increase revenue and conversions.
» Discover the best upsell and cross-sell Shopify apps to increase your AOV
3. Best for Ease of Use
KeepShoppers Score: 9.6
Key Features
HTML text editor

Geo and page/device targeting

Customizable design and layout

Live chat support
WebRex Multi Announcement Bar displays announcements, promotions, and offers on your homepage. All of the announcement bar's features are customizable, including a slider for multiple announcements. It also provides analytics and tracking to monitor the performance of the announcements.
Why We Liked It
What we love about this app is its ease. It's a quick and easy way to promote discounts and any other important information to your customers. You can customize colors, fonts, images, messages, and placement to make the announcement bar look and feel consistent with your store branding. The app's customer service is highly responsive, so you can easily address any issues.
4. Best for Email Marketing
KeepShoppers Score: 9.5
Key Features
User-friendly pop-up editor

Sticky coupon bar

Customizable pop-up timing and page display rules
Rivo Email Popups is a handy tool to create and customize pop-ups. Choose from a library of pre-designed templates or design your own custom pop-up. Afterward, you can set rules for when and where the pop-up appears. Once a visitor submits their email address, it will be automatically added to your email list. Use the app's analytics tools to track your pop-up's performance and see how many email addresses you've collected.
Why We Liked It
Rivo is a valuable tool for email marketing. Not only does it have various customizable design options to create pop-ups that collect email addresses in the first place (like awarding an instant discount for the customer's information), it also seamlessly integrates with Shopify. This means that you can manage email campaigns directly from your Shopify dashboard, saving you time and effort.
» Expand your reach with the best email marketing apps for Shopify
5. Best for Customization
KeepShoppers Score: 9.4
Key Features
Advanced targeting and segmenting

Schedule announcements in advance

Easy to set up and customize
Hextom's Quick Announcement Bar creates customizable announcement bars for Shopify stores so you can keep your customers up to date. Create unique and engaging announcements with lots of options for the design and text, including display options and mobile-responsive designs.
Why We Liked It
There are loads of styles, backgrounds, banners, and even languages to choose from. The announcement bar can easily match your branding and website, and we love that you can make changes quickly and easily. But the customization doesn't stop there: you can also segment your offers for different customers, locations, and pages, making your discounts extremely targeted and increasing your chances of conversion.
6. Best for Those on a Budget
KeepShoppers Score: 9.4
Key Features
Showcase important info in Smart Bar

Drive traffic to a specific URL

Integrates with other Shopify apps
Pop Convert creates pop-ups and banners to offer discounts, announce new products, or encourage people to sign up for your newsletter. You can design and customize these elements with templates, colors, text, and images. A/B test different versions and use the app's tracker to monitor how many people see your messages, click rates, and conversions.
Why We Liked It
What's awesome about Pop Convert is its versatility. It features lots of customizable options, smart announcements, and a super easy-to-use interface. It's simple, it's practical, and the best part—it's free forever.
7. Best for Generating Site Traffic
KeepShoppers Score: 9.3
Key Features
Display count of online visitors

Showcase recent added-to-cart products

Notify shoppers about sales
Toastibar - Sales Popup provides real-time notifications of sales and site visitors. It can help you stay informed about customer purchases and respond promptly to customer inquiries or issues. Take your business up a notch by monitoring sales and inquiries to improve customer service and build trust with customers.
Why We Liked It
The real-time visitor and purchase notifications help you stay up-to-date and respond quickly to customers. And we love the valuable insights this gives you about customer behavior and preferences because you can tailor your discount notifications according to this feedback. In turn, you can streamline operations, improve customer service, and drive sales.
» Follow these extra simple ways to keep your ideal customers coming back
8. Best for Optimizing Displays
KeepShoppers Score: 9.2
Key Features
Design and customize labels and badges

Set priority and conditions for labels/badges

Show multiple labels per product

Display countdowns on special items
BSS Product Labels & Badges adds eye-catching labels and badges to your products. You can create custom labels and badges or choose from a wide library of pre-made designs. It's user-friendly and doesn't require technical knowledge or coding skills, and there's a super helpful support team to help with any questions or concerns.
Why We Liked It
We love BSS Product Labels & Badges for its flexibility. It offers a huge range of pre-made designs plus a design-your-own-label tool. So, it's easy to let your customers know which products are currently discounted. You can even add a countdown timer to create urgency and encourage impulse buys.
9. Best for Post Scheduling
KeepShoppers Score: 9.1
Key Features
Create, schedule, and send posts

Automate product posts on social media

Generate posts based on product content

Track posts' performance and analytics
Post Studio is an automated social media posting tool that schedules and publishes content across multiple social channels from a single platform. It offers customizable posting schedules, automated hashtags, and analytics to track post performance.
Why We Liked It
With over 4.26 billion social media users globally, what better way to keep your customers informed about discounts and other news? But with so many social media channels, it can be taxing to manually keep track of your posts. However, that's what we love about Post Studio: it's mega time-saving. You can schedule and automate social media posts, saving time and effort. It supports multiple social media platforms (Facebook, Twitter, Instagram, LinkedIn, Pinterest…), so you can manage your social media presence from one streamlined platform. And the automated hashtag generator suggests relevant hashtags for each post, so you get max visibility and engagement.
» Learn how to auto-post on Instagram and Facebook from Shopify using Post Studio
Account for Discounts and Updates With a Shopify App
A good discount notification app will help you increase customer engagement, conversions, and sales. Choosing the right Shopify app is important, and you should weigh your business needs and budget before making a decision. Make sure the app you choose will help you reach your business goals and addresses your needs. Consider your budget and the pricing structures of various apps. And make sure to check out the reviews on each app you're considering.
Overall, we find that Order to Discount strikes that balance of useful features, thoughtful pricing, and excellent feedback. We love that it can provide custom discounts which then act as incentive for customers to place more orders and develop loyalty to your brand.
KeepShoppers Methodology
We scored each app based on a variety of factors that would be relevant to our readers. This includes developer friendliness, how easy the setup is, available support, supported languages, range of features, functionality, pricing, and how stores in different countries and different sectors rate the app. These elements are factored into the KeepShoppers score you see on each description.