Happy Birthday Email Discounts App Review (2024): Automated Email Marketing For Shopify

By

Steven Grrat

Edited by

Kirsty Macdougall

Fact-check by

Romi Hector
Updated November 17, 2023.
Our team tests eCommerce apps and publishes reviews that are unbiased and not influenced by payments we receive from some of the app developers.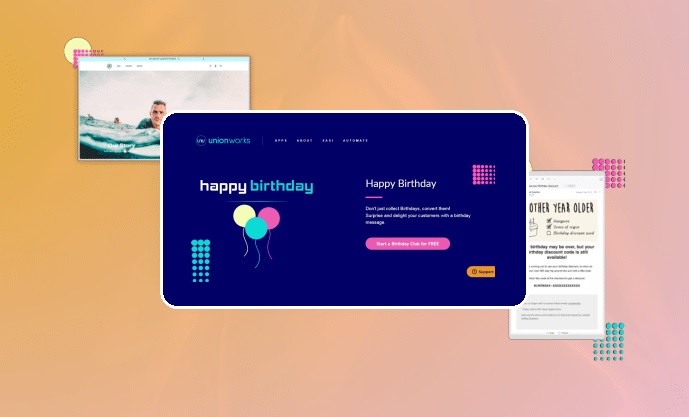 Are you tired of seeing low open rates and conversions on your email marketing campaigns? Well, did you know that personalized emails can increase open rates by 29% and click-through rates by 41%? What's more, 88% of people agree that they'll respond favorably to an email that's been specially created for them.
One strategy for personalizing your emails is to send customers happy birthday emails. If this sounds intimidating to you, you're in luck. Happy Birthday Email Discounts is a Shopify app that handles all the logistics involved in collecting customer details and sending personalized emails with unique discounts to your shoppers on their birthdays.
In this review, we'll take a closer look at Happy Birthday Email Discounts's features, pricing, customer support, and more to help you decide if it's the right app for your business.
Pros
Extensive customization options

Seamless integration with Shopify

Detailed analytics for tracking performance metrics

Free trial period for testing & evaluation

Affordable pricing options for stores of all sizes
Cons
Customer support limited to UK office hours
Best For
Happy Birthday Email Discounts is an app that will benefit any e-commerce store looking to set up or improve its email marketing campaign through sending personalized emails. There are several plans to choose from, making it a good choice for small, medium, and large businesses.
More specifically, the app is an excellent marketing tool for stores selling items frequently bought as birthday gifts like jewelry, perfume, or clothing. Happy Birthday Email Discounts is also a very helpful app for e-commerce businesses with a strong customer relationship management (CRM) system in place. The app will enable them to easily track and manage customer birthdays and automate the email-sending process, saving them a lot of valuable time and resources.
Overview of Features
Happy Birthday Email Discounts boasts an extensive range of features that cater to businesses of all sizes. The main features include:
Automated Birthday Emails
The feature most central to the app is its ability to automatically send personalized emails to customers on or leading up to their birthdays. By using this feature, businesses can keep customers engaged and loyal while also increasing revenue.
Customizable Email Templates
The app offers customizable email templates, providing businesses with a wide range of themes to choose from. With this feature, merchants can easily create beautiful, on-brand emails that captivate their audience and inspire action. You can also personalize the subject line and body of the email for a one-of-a-kind email that'll leave your customers feeling valued on their special day.
Customer Birthdate Collection
This feature allows businesses to quickly and easily capture their customers' date of birth at multiple touchpoints. You can choose to ask for the customer's birthdate on a custom landing page, the order status page, Shopify POS, sign-up forms for newsletters, or the user account creation page.
Unique Discount Codes
With Happy Birthday Email Discounts, you can easily set up a unique discount landing page. Customers will be given the link to this discount page in the birthday email. When shoppers click the link, a unique, single-use discount code will be displayed. There are multiple discount settings to choose from, like the discount type, amount, code prefix, expiry date, and limitations like minimum spend and qualifying products. This Shopify discount app also gives you the option to create discount codes manually.
Follow-Up Emails
This is the app's newest feature, which allows you to automatically send a second email after a specified number of days or just before the discount is set to expire. It will only send the follow-up email if the discount has not yet been redeemed. You can choose whether to maintain the same style and design as the original email, or you can create an entirely new style. This feature gives customers that extra nudge to make a purchase before the offer expires.
Performance Analytics
Happy Birthday Email Discounts has a dedicated analytics dashboard to show you your campaign statistics, including where the birthdates were collected from, the open rates, click-through rates, the total number of discounts sent, and conversion rates. It also provides a graphical representation of this data to track your performance at a glance.
» For improved business insights, head to our list of the top sales-tracking apps
Plans & Pricing
Happy Birthday Email Discounts offers four pricing plans. Essentially, they all offer the same set of features we discussed above. The difference lies in the number of customers it supports, with cheaper plans better suited to smaller customer bases.
Starter

The Starter Plan is free and includes essential features such as automated birthday emails, customizable templates, and performance tracking. It only supports 50 birthday members, which makes it quite limited. However, it's a great starting point for smaller stores just starting out.

Base

The Base Plan costs $10 per month and offers all the features listed in the Starter Plan. However, it stores up to 1,000 birthday members, offering a lot more than the Starter package at an affordable price.

Growth

While the Growth Plan is double the price of the Base Plan, at $20 a month, it supports five times the number of birthday club members. This makes it an excellent fit for medium-sized businesses.

Established

As the name suggests, the Established Plan is ideal for larger stores with a more established customer base. It comes with a price tag of $40 a month but stores an impressive 15,000 birthday members. If your needs go beyond this, the Happy Birthday Email Discounts team will develop a custom plan to cater to more than 15,000 members.
» Not sure what you should be spending? We offer helpful guidelines on how much to spend on Shopify apps
Integrations
Happy Birthday Email Discounts integrates with a variety of third-party apps to streamline and enhance your marketing and performance efforts. With these integrations, you can easily sync your customer data and automate your email campaigns. Some of the most popular integrations include:
Usability


Getting started with Happy Birthday Email Discounts took a matter of minutes. The installation process is simple and efficient, and the settings are easy to configure—even for people without a tech background. The app's user interface is intuitive, clean, and easy to use, making it accessible for businesses of all sizes.
Happy Birthday Email Discounts offers a range of customization options, allowing you to create tailored email templates that match your brand and messaging. The app also integrates seamlessly with other apps, allowing for streamlined marketing efforts and data syncing.
Overall, the automation of birthday emails has saved us a lot of time and resources, allowing us to focus on other aspects of our marketing, all while improving our customer loyalty and sales.
» Check out our top choices for sales-boosting apps to ramp up your bottom line
Support
Happy Birthday Email Discounts provides excellent customer support that ensures businesses can easily achieve their marketing goals. Support includes:


Email support

:

You can submit a request form about any issue you're experiencing with the app. They typically respond on weekdays during UK business hours, although they do sometimes offer assistance outside of these hours.



Support portal

:

This portal contains an extensive library of articles, including how to get started, configuring settings, integrating third-party apps, plans and pricing, and FAQs.



Case studies

:

These are real-life examples of businesses using the app to improve engagement and

customer lifetime value

.
Wish Every Customer a Happy Birthday!
Happy Birthday Email Discounts is a powerful tool that enables businesses to create personalized birthday email campaigns for their customers. Despite some limitations in terms of performance, the app offers a range of features to help stores increase customer engagement and drive sales. With the app's user-friendly interface and detailed analytics, businesses can easily create effective birthday email campaigns that will increase customer loyalty and boost revenue.
» Take a look at the best email marketing apps to drive your campaigns even further
Happy Birthday Email Discounts App Review (2024): Automated Email Marketing For Shopify