How to Change Logo Sizes on Shopify & Why It Matters
Trouble adjusting the size of your logo? Find out how, plus other tips for top-notch store branding.

By

Adeel Qayum

Edited by

Anelisa Nokoyo
Published November 1, 2023.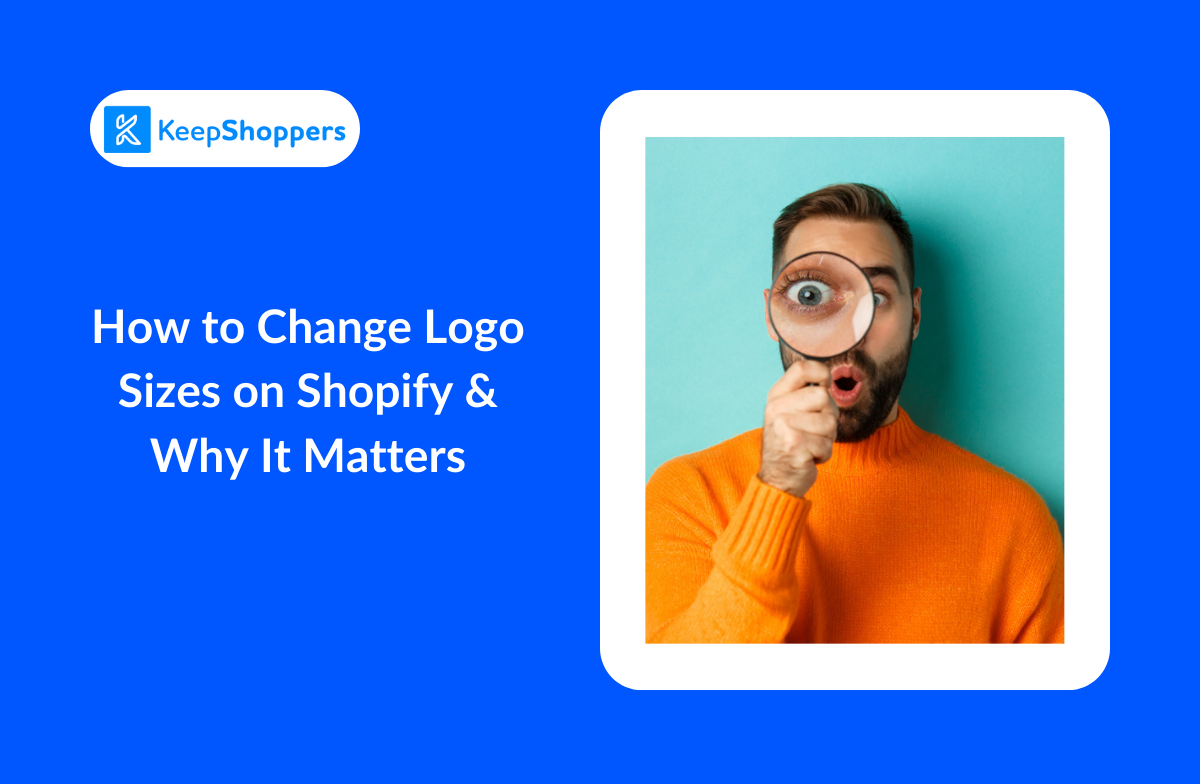 As one of the most popular e-commerce platforms in the world, Shopify is used by countless entrepreneurs to build, manage, and grow their online stores. Part of that growth is strong branding and visuals.
Your brand expresses to your visitors who you are, what you're about, and how you can help fulfill their needs. At the center of your brand identity is your logo: it distills your entire brand into a single spot on the page.
If you've been struggling with your Shopify logo size, you're in the right place. We'll cover everything you need to know about getting your logo size just right so you can get in on that 47% Shopify revenue growth.
Understanding Logo Sizes on Shopify
Your header logo brings your brand to life for customers just discovering your company. It has a significant impact on their first impression of your store, contributing to the overall aesthetic and previewing what the user experience will be like.
That's why it's essential to make sure you have the right Shopify logo size with a responsive design that displays well, no matter the device your shopper is using.
The recommended logo size for all Shopify themes is 512x512 pixels in JPG or PNG format, with a file size of less than 20 MB.
Inside each theme, you can adjust to display the best ratio. For example, the Debut theme allows for a maximum width of 250 pixels.
» Your chosen Shopify theme doesn't just affect logo size: Find out how choosing a Shopify theme affects SEO
Determining the Best Logo Size for Your Shopify Store
As you try to figure out the best logo size for your Shopify store, there are several factors to consider. You'll need to strike a balance between visibility and aesthetics. A logo that's too small may go unnoticed, while one that's too large can overwhelm the layout and distract from other important parts of the page.
You'll also want to optimize your logo file size to ensure fast loading times, which can significantly impact user satisfaction and SEO rankings.
For example, Shopify store Kirrin Finch finds the perfect logo size so that the smaller text, "Est 2015," still shows on the desktop.
And here, the Shopify store The Outrage shows a great example of a well-sized logo in the center instead of the more common left-aligned logo.
Changing Logo Sizes on Shopify
Figuring out how to change logo size in Shopify shouldn't be a hassle if you know where to look and what basic steps you need to take. Here's an overview:
Log into your Shopify admin panel.

Under the

Sales channels

section, click

Online Store

.

Under that dropdown, click

Themes

.

Inside your theme, click

Customize

.

In the left sidebar, find the section that says

Header

.

Scroll down until you find

Custom logo width

.

Toggle the slider until the size is just right.
Source
Additional Tips for Optimizing Logo Size
Here are a few extra tips for the perfect logo:
Transparent backgrounds

can help your logo seamlessly integrate with different Shopify themes and color backgrounds. No matter what changes you make down the road, your logo will always be ready.

Test your logo

across different devices and screens to ensure it looks great no matter where it's pulled up, whether it's an oversized desktop, tablet, or smartphone.

Maintain uniformity

in your branding across your whole website. Keep the same colors, fonts, and design elements so your brand identity can be consistent and reliable.

Update your logo

everywhere it's displayed on your site, including the footer and other sections.

Make sure your logo is optimized

everywhere, even off your site. This includes emails, social media channels, and print materials.
Bonus Tip: Using the Right Shopify App
It's always a great idea to have helpful tools in your e-commerce toolbelt. For all things image-related, take a look at All-in-One Image Master.
All-in-One Image Master can streamline and simplify all the tedious parts of the image editing process so you have more time to focus on growing your business.
Sizing Up Success: Your Shopify Logo Matters
Your Shopify logo size isn't something to overlook—it can help establish a sense of trustworthiness and reliability in your store, solidify your brand identity in the eyes of your shoppers, and help you build a strong, long-lasting online presence.
Having a logo that's too big or too small is a common problem for Shopify stores, but now you're equipped with the tools you need to ensure your logo is the perfect size. Keep these tips in mind as you continue your e-commerce journey, and don't forget to take advantage of all the helpful tools at your disposal, like All-in-One Image Master.