5 Best Practices for Shopify Product Feed Optimization

By

Adeel Qayum

Reviewed by

Anelisa Nokoyo

Fact-check by

Michelle Meyer
Published September 4, 2023.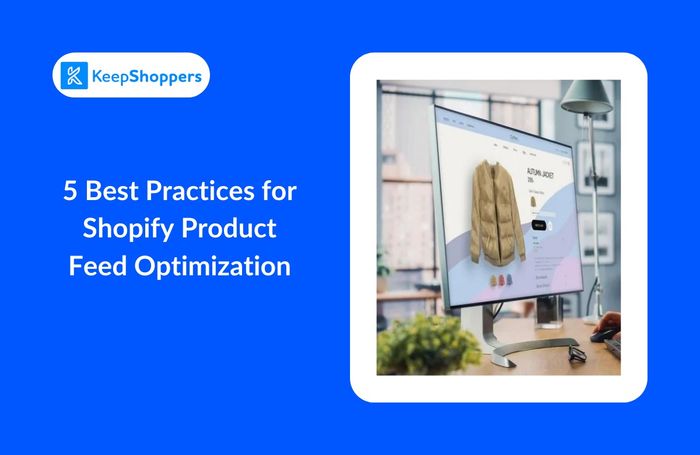 When searching for products on Google, one of the first things you'll come across is the product feed. This feed gives Shopify stores the opportunity to get in front of high-intent buyers. However, many store owners don't quite understand how product feeds function and the steps they should take to optimize them for increased revenue. Let's change that.
Understanding Product Feeds and Their Impact
Product feeds are Excel, CSV, or TXT files with product information that shopping channels use to display accurate product listings.
Smart Shopify merchants use product feed optimization to get their items featured on channels like Google Shopping. Here are the key benefits of using this tactic:
Increased discoverability

: Google product listings make up

36%

of online product discovery. A well-optimized product feed ensures you appear in these high-traffic spaces.

Streamlined inventory

: Frequent updates to your product feed keep all details current. Customers see real-time pricing, product features, and availability.

Enhanced performance

: Updated and accurate product information builds trust, which results in more clicks and higher conversions.
1. Leverage Tools for Advanced Optimization
If you're looking to boost conversions, then it's crucial to have an organized and relevant product feed. Specialized tools like Bestsellers reSort by Egnition can give you a significant edge.
Use the Bestsellers reSort App for Sorting
The Bestsellers reSort app offers a focused way to organize your Shopify product feed. With its precise sorting rules, you can tailor your product listings to appear exactly how and where you want them in your feed. For instance, if you want new arrivals or top sellers to always appear at the top of your feed, you can create rules that prioritize displaying these items over other options.
But effective sorting isn't just about visual arrangement. It's a direct path to optimizing your product feed. Strategically placing key products at the top of collections can transform your feed from a simple assortment into a tailored sales catalyst.
Other

Techniques for Optimization
Make use of Google Shopping's custom labels for better categorization.

Update your product feed regularly to include the latest inventory and pricing.
Top tip: Leverage customer feedback to identify patterns and refine your sorting strategy.
2. Optimize Product Titles and Descriptions
Your product titles are the first thing people will notice in the product feed, so they need to be enticing and relevant. Use clear, keyword-rich titles to help Google match your product to relevant searches. The product description also matters. Google uses this text to find more keywords for your ad. Place the most crucial details in the first lines, as both Google and potential buyers pay more attention to the opening.
In short, a strong title helps Google find you, whereas a detailed description keeps shoppers interested. Together, they make your Shopify product feed more effective.
3. Enhance Product Images
First impressions matter, especially in a product feed, and high-resolution images grab immediate attention. The goal is simple: captivate the shopper from the first glance.
Background matters, too. Use a clean, white backdrop to let the product shine. Add multiple angles to show what customers can expect to receive.
And don't forget to align images with your brand's style and ethos. Use your official logo to foster trust and streamline the shopping experience. All in all, optimized images complement a well-optimized title and description in your Shopify product feed.
4. Streamline Collections and Categories
Shopify collections group related items for you. For example, you could feature scarves and raincoats in a "Fall Essentials" collection. This makes navigation easier for shoppers and optimizes your feed.
Categories work alongside collections. They sort your feed into broad sections like "Electronics" or "Apparel." This organization speeds up the search for shoppers and tidies up your feed.
You can further refine categories and collections with product tags and labels. For instance, consider applying a "seasonal" tag to products meant for specific times of the year. Tags like these improve feed efficiency and help connect shoppers to desired products.
5. Navigate Challenges and Encourage Success
New merchants often grapple with data inconsistency in their feeds. They upload products but overlook essential attributes like color or size. Incomplete data can lead to poor visibility and missed sales opportunities.
Another challenge is feed update frequency. Merchants may update their website inventory but forget to sync it with their feed. This disconnect can result in outdated listings that frustrate customers and reduce trust.
The solution lies in automation and education. Consider using Shopify's feed management tools to ensure data consistency and regular updates.
Feed Your Success: Navigating Shopify's Product Optimization Landscape
As the battle for SERP rankings heats up, product feed optimization becomes even more essential. With many shoppers relying on Google listings for their purchases, appearing in them is no longer a luxury—it's a necessity.
By leveraging these best practices, including utilizing tools like Bestsellers ReSort, you can set up a product feed that not only improves your visibility in SERPs but also attracts and converts customers.