5 Best Free Data Generation Apps for Shopify

By

Adeel Qayum

Reviewed by

Kirsty Macdougall
Published June 4, 2023.
Our team independently researches and recommends the best products and services. We publish reviews that are unbiased and not influenced by payments we may receive from advertising partners.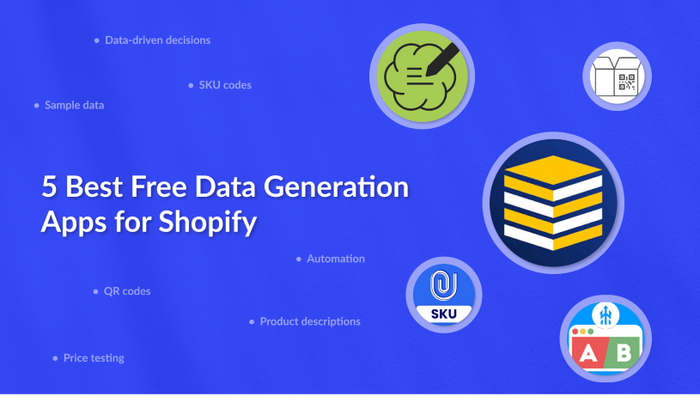 According to recent research, 61% of consumers said they're more likely to buy from brands that provide personalized interactions. And as we all know, data is the core driver of personalization. But it's not just about collecting and repurposing data about individual customers.
Valuable, brand-boosting data can be found in virtually any primary business operation and applied to any key business process. On a daily basis, store owners need to generate data like QR codes, marketing content, and strategic pricing. Fortunately for Shopify merchants, there are apps to help create and use data. We've done the research and testing to create a list of the best free data generator apps to help you find what you need.
Our Top Picks for the Best Free Data Generation Apps for Shopify
1. Best Overall
KeepShoppers Score: 9.8
Key Features
3 sample data themes

Dummy data for testing user journeys

Smart & custom collections
Recently created a new store and want to test products and orders? Take a look at Simple Sample Data, a Shopify app that lets you effortlessly generate and analyze dummy data for your store. You get options to generate all or just some elements, as well as pre-built themes that will save you effort and time. The app lets you choose what data you want to use—and you can delete that data afterward in one click.
Why We Liked It
Simple Sample Data is one of the best apps to analyze dummy data. With a granular overview, we were able to analyze our store's design, functionality, and checkout process. We placed it at the top of our list because where the other apps fulfill one specific function, Simple Sample Data creates data to test the running of our entire store.
Pros
Modular functionality

Various data sets

Responsive, expert customer support
» Read more about this app in our in-depth review of Simple Sample Data
2. Best for QR Codes
KeepShoppers Score: 9.6
Key Features
Dynamic QR codes

Powerful URL shortener

Scan reports & analytics
QR Code Generator Hub performs a single task and does it really well. It generates QR codes that you can link to products, checkout carts, social media sites, or any URL. Plus, the app lets you track everything from QR code scans to location and time and view QR code attribution in Shopify.
Why We Liked It
QR Code Generator Hub had us in disbelief. While most platforms charge for dynamic QR codes, they generously offer them for free. As if that wasn't enough, they even let you customize the look with your logo and style. It's a winning combination of cost-effectiveness and creative control that we couldn't resist.
Pros
Custom styles & logos

One-click batch creation

Helpful customer service
Cons
Scanning QR codes may take time
» Discount codes are also important. Check out these great apps to generate discount codes
3. Best for SKU Codes
KeepShoppers Score: 9.7
Key Features
Bulk update SKU codes

Match SKU rules to your needs

Prefix & suffix for generated SKUs
SKU code update in a click of a button? Yes, please! F: SKU Code Generator is a Shopify app that lets you update SKU codes for all or some of your products in an instant. You can also add prefixes and suffixes to generated SKUs for any item if required.
Why We Liked It
If you're tired of spending endless hours creating SKU codes for Shopify, F: SKU Generator is a hidden gem. This user-friendly tool simplifies the process, allowing quick creation and editing of SKUs. What's more, it supports a whopping 27 languages, making it a true blessing in disguise for global businesses.
Pros
Quick & easy setup

Works on product variants

Bulk editing tool
Cons
Minor glitches during use
4. Best for Product Descriptions
KeepShoppers Score: 9.5
Key Features
Automate product descriptions

Highlight key features & selling points

Align with your brand's voice
With millions of e-commerce stores vying for attention and rankings, writing good product descriptions becomes a necessity. Enter Product Description ChatGPT AI: a Shopify app armed with advanced algorithms and impeccable natural language prowess. It swiftly generates top-quality descriptions, freeing up time for crucial tasks. These persuasive gems not only inform customers but also inspire them to make confident purchases.
Why We Liked It
Product Description ChatGPT AI outshines the competition with its special offering of free features. While other apps limit functionality on their free plans, this app breaks the barriers. All features are accessible to every active Shopify store owner, delivering exceptional value and customer experience.
Pros
Forever-free plan

Intuitive UI

Edit & update options
Cons
Some inaccuracies in descriptions
» Product descriptions are essential for SEO. Discover more SEO-boosting apps for Shopify
5. Best for Price Testing
KeepShoppers Score: 9.6
Key Features
Pricing & product A/B testing

Detailed reports & analytics

Preserves site speed
Smart Shopify merchants use the A/B methodology to test if products will be successful. With Trident AB, you can also run tests to find out what converts best through its detailed analytics dashboard. The app lets you run A/B tests on your pricing, images, copywriting, and product page layouts so you can identify and focus on the best-performing versions of each.
Why We Liked It
Trident AB is the ideal choice for those seeking an A/B testing app with remarkable flexibility. Its intuitive interface allows easy customization of variants and element testing. And with seamless implementation, the app ensures a smooth user experience without compromising site speed.
Pros
Clean UI

Bulk pricing tests

Great support
» If site speed is a top priority, take a look at our best speed optimization apps
Data Done Right: Generate Key Data for Your Shopify Store
Data generator apps can provide a ton of value for Shopify stores, like making informed decisions, automating tedious processes, saving time, and ruling out human error. Depending on your needs, you may need just one of the apps we've discussed today, or you may find that you benefit from all five. They're free, so give them all a try—especially Simple Sample Data, which is our top pick for helping generate sample data for your store.
» Don't forget to analyze the data you generate with one of these top-rated analytics apps
KeepShoppers Methodology
When we recommend apps for your store, we first evaluate each option using a specific set of criteria, including:
Ease of Use:

This encompasses developer friendliness and the user interface, how easy the setup is, and the quality and timeliness of customer support.

Features:

We factor in the range of features and the extent of the features' usefulness in generating data. We also consider the degree to which the elements can be customized.

Integrations:

We look at how many third-party integrations are available and the extent of their benefits to the user.

Pricing:

To make it onto our list, not only must the app be free, but it must function as well as apps with paid plans.

Customer Reviews:

For a more holistic and well-rounded evaluation of each app, we weigh in dozens of customer reviews to see how stores in different countries and different sectors have rated it.
We also consider the time and resources required to make the best use of the app—more feature-rich solutions are usually more complex and require a greater time investment to learn. All of these traits are aggregated into the KeepShoppers Score you can see in each app description.
Frequently Asked Questions
What data can you export from Shopify?
Shopify lets you export multiple types of data, like customer and order details, product info, and inventory details. You can export data using common formats like Excel and CSV.
What is a good SKU format?
A good SKU is descriptive, organized, and unique. SKUs are often between 8-12 characters, using a combination of letters and numbers related to the product itself. For example, you might choose the SKU "HNS-123-L-GR" to label a Hanes brand t-shirt, product number 123, size large, color green.
How can I use product descriptions to boost SEO?
Write content that's relevant and engaging to your specific audience. Showcase the top features of the product and the value it will add to the customer's life. Provide all the specs and information you can. Be sure to optimize for SEO, including naturally-used keywords and optimized metadata, image alt text, and URL names.
How does A/B testing work?
A/B testing compares 2 different versions of an item, like a webpage, headline, product description, or call-to-action. Some users will see one version, while other users will see the other. Then, you'll be able to compare which version performed better.