Custom Collections Builder: Create, Sort & Organize Shopify Collections

By

Joel Taylor

Reviewed by

Davor Štefanović
Published June 1, 2023.
Our team tests eCommerce apps and publishes reviews that are unbiased and not influenced by payments we receive from some of the app developers.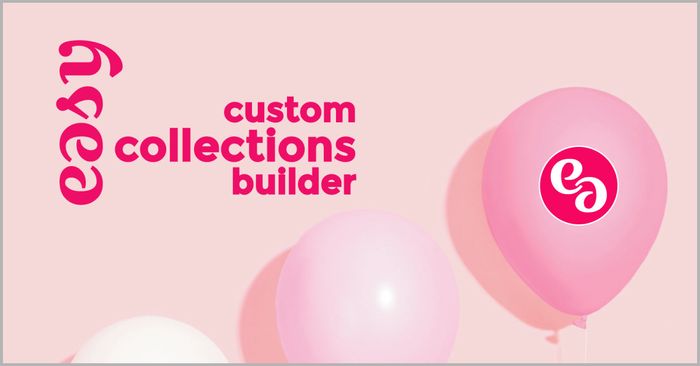 One of the biggest struggles that Shopify merchants have to deal with is the limited capabilities of Shopify's integrated collections builder. Your products could be grouped into so many different collections, but Shopify only has a few options to choose from.
Thankfully, with an intuitive app like Custom Collections Builder by Ripple Apps, you can customize the way you group your products to better match your brand and the products you sell. Read on to learn more about how this app can help you.
Why You Should Use Custom Collections Builder
Many Different Types of Collections
The Custom Collections Builder app allows for many customization options when building your collections. Some of the collection types include:
Most sold products

Randomized products

Most visited products

Reduced items

And many more!
Easy Product Filtering
Creating your collections is super easy with the app as you have the ability to filter your products with many different tags, including the following, among others:
Product types

Vendors

Titles

Between price ranges
Ability to Merge Collections
The app allows you to easily merge up to five collections into one.
Simple Collection Sorting
You can sort your collections any way you choose, such as by "most sold," to give you a clear idea of what works and what doesn't. Use this insight to create better collections for your Shopify products in the future. Additionally, you'll even be able to see and show how many times a particular product has been visited or sold.
Custom Collections Builder Pricing
All plans come with a 7-day free trial, and the more expensive plans allow for more custom collections and products per each collection, allowing you to scale the cost to the size of your store. The plans are as follows:
Basic Plan
$2.99/month
10 custom collections

250 products per collection

Up to 5,000 products
Enterprise Plan
$4.99/month
15 custom collections

500 products per collection

Up to 20,000 products
Pro Plan
$9.99/month
20 custom collections

500 products per collection

Up to 100,000 products
Pro Plus Plan
$19.99/month
30 custom collections

1000 products per collection

Up to 120,000 products
Final Verdict: Is Custom Collections Builder Worth It?
If Shopify's integrated collection-sorting system is too limited for you, then installing a 3rd-party app is essential if you'd like to give your store that extra touch of customization, and Custom Collections Builder by Ripple Apps is a fantastic choice.
But don't just take our word for it.
At the time of writing this review, Ripple Apps' listing on the Shopify app store held a complete 5-star rating by Shopify sellers. If you'd like to learn more, visit their website or head directly to the Shopify app store.