How to Fix Shopify Variant Images That Aren't Working: Troubleshooting Tips
A troubleshooting guide to quick fixes for non-functional Shopify variant images

By

Adeel Qayum

Edited by

Dyllan Hopewell
Published November 1, 2023.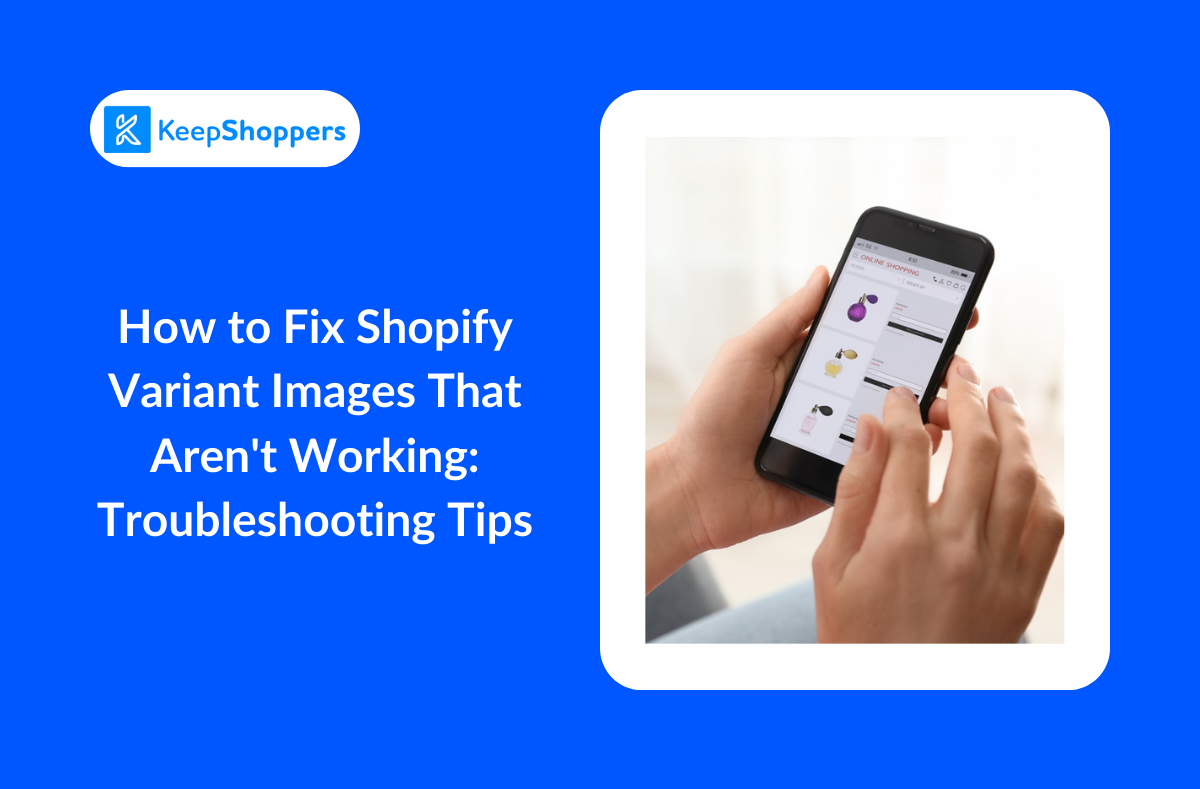 Are you seeing broken image icons or distorted images? If so, you're having problems with Shopify variant images that don't work. This can significantly impact a user's experience with your website. In the worst cases, it can result in lost sales.
But don't worry. We're here to work you through some of the most common causes.
1. Check Image File Formats and Sizes
First, you might encounter an issue with the files themselves. Check your theme settings for guidance, and manage your variant images accordingly.
Shopify recommends using PNG, JPG, and GIF formats for product listings.
Regarding image size, a 1:1 ratio is the broad recommendation, but it will depend on your specific theme and how you want the images to be displayed.
However, manually resizing, compressing, and formatting images can be tedious and time-consuming. The right Shopify tool like Egnition's All-In-One Image Master can help you streamline your variant image optimization efforts.
It can help you:
Easily

remove backgrounds



Crop images

Automatically generate ALT text

Deliver a unified look

Automate the process with pre-set rules
» Never struggle with variant images again: Read in detail the All-In-One Image Master review.
2. Examine Theme Compatibility
Your Shopify theme ensures your product variant images are showing correctly. First, check that your theme supports variant images. It may not support this feature if it's outdated or customized, so it might be time for a new theme! You can also try updating your theme, which may give new support to fix your issues.
3. Investigate App and Code Conflicts
Sometimes, custom code and third-party apps can interfere with the variant function of your theme. If you're using apps, try disabling them individually to see if any disabled app fixes your variant display issues. As for code conflicts, consider the help of no-code apps or hire a developer to review your code. They'll have the expertise to determine which elements can create a problem.
4. Test and Verify Changes
After every instance of implementing a change, be sure to test your variant images. This can ensure you're pinpointing the exact issue. If you change more than one element at once before testing, you'll never know which one made the difference. Consider the help of a tool like Egnition's Simple Sample Data app, especially if you're still working in a Shopify development store.
It can generate dummy data that support products with multiple variants like:
Products

Customers

Orders

Collections using themes
» Read our Simple Sample Data review for more details.
Seeking professional help
Unfortunately, it's common for a store owner to encounter issues that are too complex to fix on their own. This is especially true if you don't have any development experience. If you still can't figure out the issue, consider contacting Shopify's customer support or hiring a developer specializing in Shopify store development. They can help ensure you solve the issue quickly and with minimal headaches.
Picture Perfect: Your Shopify Variant Images Fixed!
Functioning variant images are important for a well-oiled store: they showcase your products to customers, instill trust in the products you're offering, and often help answer product questions that customers might have. If you're having issues, check out the Shopify troubleshooting tips we've discussed here and get help from tools like Egnition's All-In-One Image Master and Simple Sample Data.
» Improve your variant images with the best photo editing apps for Shopify