5 Black Friday Discount Code Ideas for Shopify Stores in 2024
Get more sales this Black Friday with these creative discount code ideas.

By

Adeel Qayum

Edited by

Anelisa Nokoyo
Updated November 16, 2023.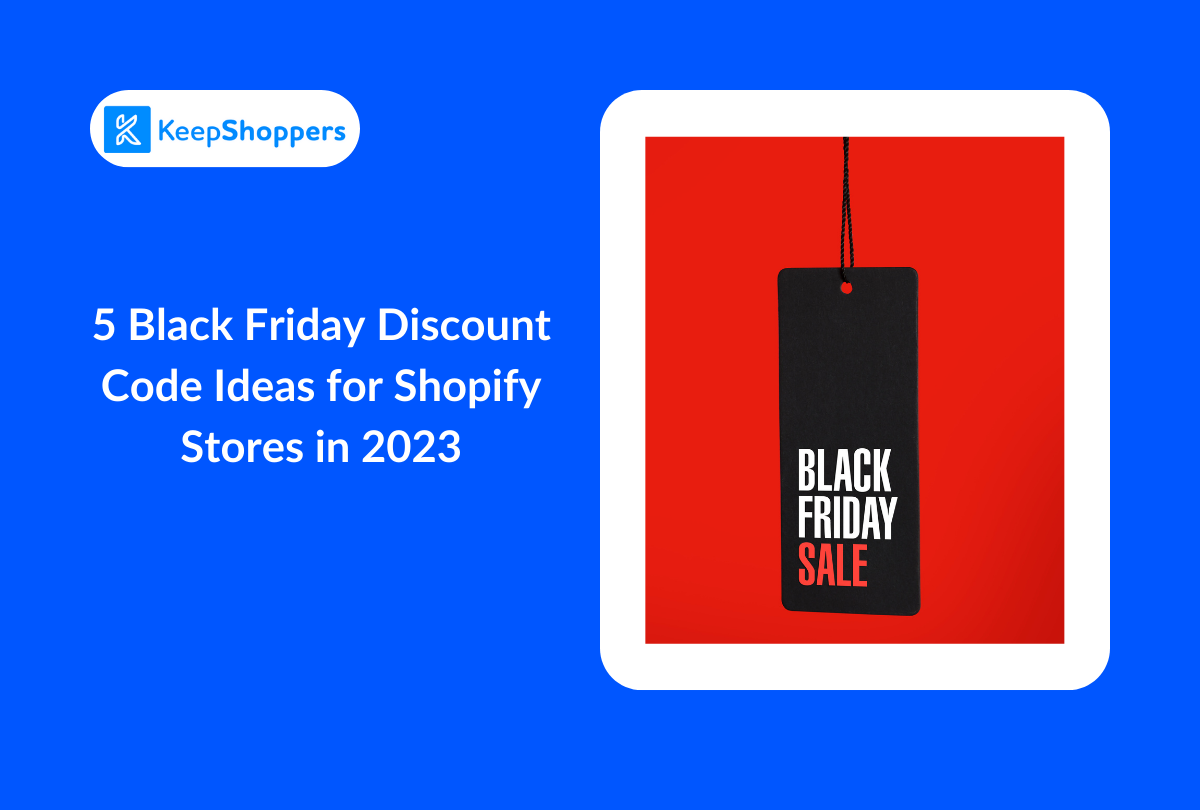 Black Friday isn't just a shopping holiday—it's a global institution. Despite originating in the US, it's now celebrated worldwide. And with the current cost of living crisis and tighter budgets in 2023, Black Friday is expected to be even more important for many shoppers.
Store owners can take advantage of this by offering eye-catching and enticing discounts to their visitors. In this article, we'll share some Black Friday discount code ideas to implement in your store this year, from traditional ideas to more creative, personalized, and gamified ones.
» Use this Black Friday checklist to get your store ready.
1. Traditional Discount Code Ideas
When it comes to winning over shoppers and driving sales during the Black Friday shopping frenzy, sometimes it's the tried-and-true strategies that work best. These traditional discount code ideas have been consistently successful in converting visitors into customers:
Percentage-based discounts

: A classic

discount strategy

, like

60% off certain items

or

30% off all items in the store

.

Dollar-amount discounts

: Try fixed amounts instead of percentages, like

$10 off all cosmetic kits

or

$50 off all orders over $200

.

Buy one get one (BOGO) offers

: Everyone loves a

BOGO

, where customers get a second unit of the same item for free, like

buy a t-shirt and get a free t-shirt

.

Free shipping promotions

:

Free shipping

on all orders that take place during the Black Friday sale window, which can be applied at a certain spending threshold or on any size purchase.
Here's a combo of a 20% percentage-based discount coupled with sitewide free shipping from Drunk Elephant:
» Follow this guide to successfully incorporate discount percentages on Shopify.
2. Unique and Creative Discount Code Ideas
Traditional and dependable discounts will always have their place, but sometimes you'll need to innovate to really stand out from all your competitors. Introducing unique and creative Black Friday discount codes can be a great way to create a sense of excitement and urgency for your shoppers. Try these creative discount ideas:
Mystery discounts

: Customers are given a "mystery code" and don't find out what the discount is until they apply the code at checkout.

Flash sales and hourly discounts

: These sales offer steep discounts for limited periods, like a 50% off sale that lasts for one hour only.

Social media exclusives

: Reward your social media followers by giving them a special discount not available to the public. For example, this can be redeemed as a special discount code shared only on your Instagram post.

Bundle deals

: This applies to specific discounts on

products purchased together

, like an extra 20% discount for purchasing a lotion to go with your perfume.
Sustainable water bottle company, Equa, used a bundle approach, offering a 3 for 2 bundle deal.
3. Personalized Discount Codes
Shoppers in 2023 have growing expectations—and one of those expectations is a personalized shopping experience. That's why you need to be on your game when it comes to customizing your marketing strategies and offering personalized discount codes that are unique to each customer. Here are some ways to do this:
Customer segmentation

: Break your customer list into groups based on preferences, purchase history, and shopping behavior. For example, you can offer discounts on vegan products for customers who have demonstrated an interest in the vegan lifestyle.



Abandoned cart recovery

: Lure customers in after they've put an item in their cart but left without making a purchase. You can do this with a discount of 10% off, free shipping, BOGO, and more.

Rewarding loyal customers

: Showing appreciation can go a long way, like offering an extra 15% off to customers who have made three or more purchases at your store.
In this example, Cupcakes and Cashmere offer special VIP early access discounts to their repeat loyal customers.
» Try these top Shopify loyalty apps to elevate customer engagement
4. Gamified Discount Codes
Gamification is getting a lot of traction in all kinds of applications, channels, and industries. The reason is simple: presenting an activity as a game makes it more engaging and captivating while piquing curiosity and the natural urge to win. Try these gamification strategies:
Spin-to-win wheels

: These popular apps let users spin a wheel for prizes, with the reward being determined by the outcome of their spin.

Treasure hunts and challenges

: Lead customers on a hunt around your site, using riddles and clues to guide them to certain areas, like a page containing a unique discount code.

Scratch-and-reveal discounts

: Like a spin-to-win, scratch-and-reveal discounts use an app to randomly select a discount for customers to apply to their purchase.
In this example, Forever 21 uses a scratch-and-reveal widget to give customers a certain percentage off based on their chosen card.
5. Timing and Promotion
A strategic, well-timed, and well-promoted Black Friday sale can make a huge difference for your revenue. You can start promoting as early as November, teasing the discounts and benefits that customers can look forward to as the holiday approaches. Kick your promotions up the week before Black Friday and keep the momentum going up until the day of. Here are some channels and techniques to generate excitement for your sale:


Email marketing campaigns

:

Send personalized emails to your subscribers highlighting exclusive discount codes they can expect on Black Friday. Use attention-grabbing visuals and powerful subject lines to stand out.

Social media strategies

: Create engaging posts, stories, and countdowns to

create buzz on your social media

channels like Twitter, Instagram, TikTok, and Facebook.

Influencer partnerships

:

Partner with influencers

who are relevant to your store's niche, like beauty influencers for a skincare line or models for a fashion store. Have them offer unique discount codes through their channels.
In this example, baby brand Tubby Todd used its social media accounts to tease upcoming Black Friday deals and encourage followers to sign up.
Bonus Tip: Streamlining Discounts With Egnition's Order to Discount
Shopify store owners can get an extra boost with apps like Egnition's Order to Discount. This powerful app allows you to generate auto-calculated loyalty discounts from any order. This comes with plenty of benefits, like time saved, higher efficiency, consistency in providing discounts, and streamlined customer service. Take advantage of Order to Discount's features, including:
Discount templates for follow-up emails and typical discounts

Discount calculations based on order value

Pre-built email templates that are ready to customize
» Learn more about Egnition's Order to Discount app in our full review.
Discounting Your Way to Black Friday Triumph
There are plenty of Black Friday discount code ideas to supercharge your sales and boost your revenue this year. Consider some of the options we've discussed, like traditional, unique, personalized, and gamified discount code ideas, as well as the timing and promotion of your campaigns. Mix and match and combine multiple discount code strategies to reel customers in. As you're planning your campaigns, make sure to check out Order to Discount for a simpler, more streamlined process.