9 Simple Steps to Integrate Afterpay With Your Shopify Store
Unlocking seamless payments: Your guide to Afterpay integration

By

Elijah Adebayo

Edited by

Janet Barben
Published November 5, 2023.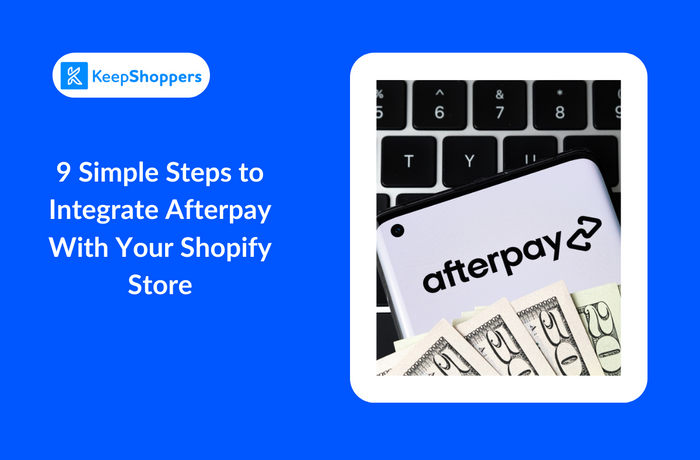 E-commerce has witnessed revolutionary changes in recent years, offering businesses a plethora of tools to enhance the customer shopping experience. One such transformative tool is Afterpay, a renowned Buy Now Pay Later (BNPL) service.
A staggering 50% of US residents have expressed interest in BNPL services, making it clear that it's not just a fleeting trend, but rather a significant shift in consumer purchasing behavior. By integrating Afterpay with your Shopify store, you're not only aligning with modern shopping preferences but also potentially boosting conversion rates and customer satisfaction.
Understanding Afterpay
For Shopify merchants, integrating Afterpay can mean the difference between an abandoned cart and a successful sale. Imagine a potential customer, thrilled about your product, but hesitant due to budget constraints. By offering Afterpay, you provide them with a solution that meets their financial needs without compromising their desires.
To integrate Afterpay into your Shopify store, you need an:
How to Add Afterpay to Shopify: Step-by-Step Guide
Log in to your Shopify account to access the dashboard.

Click on

Settings

at the bottom left, then select

Payments

.

Under

Additional payment methods

, click on the

Add payment methods

button.

In the

Search by provider

search bar, input "Afterpay" and select it.

Click

Activate

.

Click on

Connect

to proceed with the installation process.

You'll be redirected to your Shopify admin, where you'll be prompted to install it.

Next, you'll need to log in to your Afterpay account or create a new one if you don't have one, and then complete the necessary requirements.

Once you're set up, test the integration by creating an order, choosing Afterpay at checkout, and using a test card from Afterpay.
Ready, Set, Afterpay: Transforming Your Shopify Store
To wrap up, integrating a BNPL app like Afterpay into your Shopify store is more than just adding another payment method—it's about revolutionizing your customer's shopping experience. By now, you've seen how simple the steps are, and we can vouch for the seamless experience it offers. The benefits of Afterpay, from increased sales to enhanced customer loyalty, are undeniable. Seize the moment to elevate your Shopify experience. Delve in, and let Afterpay power your growth. Ready, set, Afterpay!