How to Add Sezzle to Shopify Stores: 2024 Installation Guide
Seamless Sezzle setup: Elevate your checkout experience in 2023!

By

Elijah Adebayo

Edited by

Dorian Rhode
Updated November 16, 2023.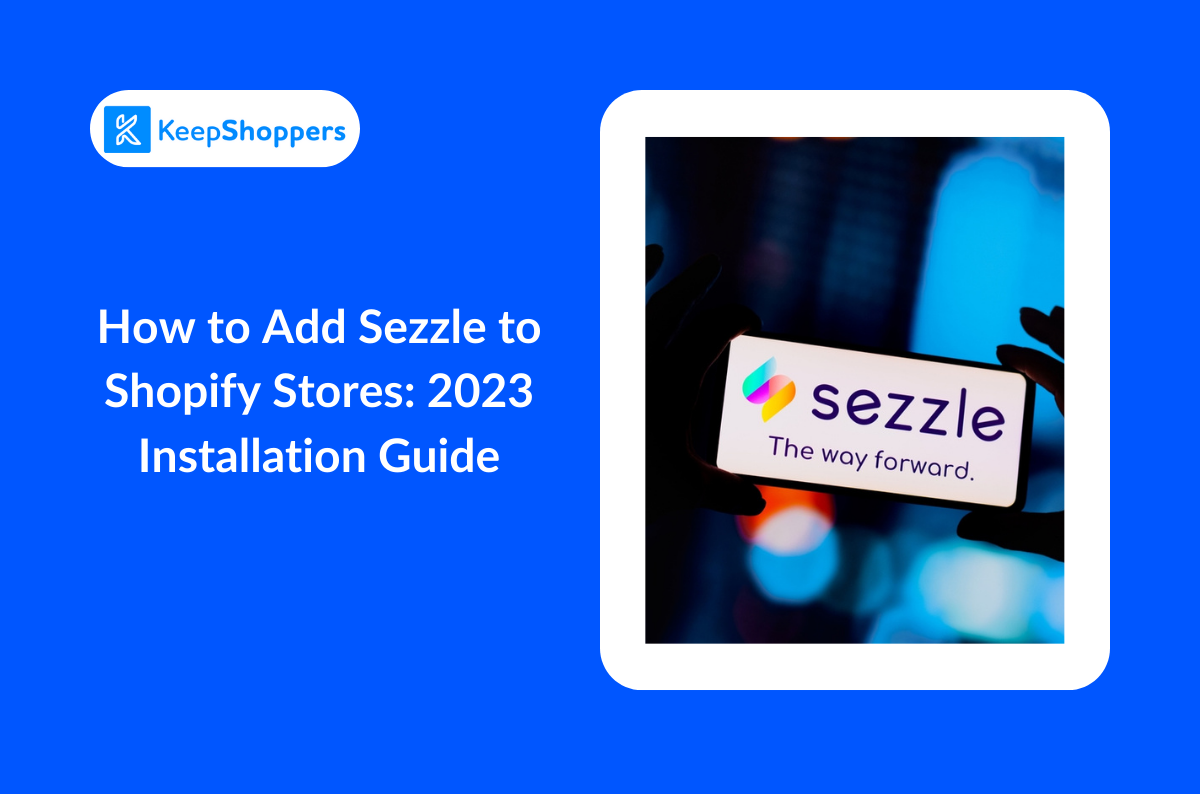 The fast-paced e-commerce landscape is shifting towards more flexible payment choices, with Buy Now Pay Later (BNPL) solutions like Sezzle leading the way. If you're thinking about adding Sezzle to your Shopify store, you're making a smart move. According to experts, BNPL options can potentially boost sales by 20% to 30% and average purchase size by 50%. In simple terms, this translates to substantial revenue growth for merchants like you who offer these options.
Below, you'll find a step-by-step guide for incorporating Sezzle into your Shopify store, along with valuable management tips to ensure your business's success.
Understanding Sezzle
Integrating Sezzle can dramatically enhance the overall shopping experience. Shoppers aren't pressured to pay immediately. This freedom can potentially boost your store's conversion rates and average order values.
But before you jump on the Sezzle bandwagon, there are some prerequisites to check off:
Active Shopify store

: Needless to say, you need a functioning Shopify store to add and use Sezzle. If you haven't set one up yet, you can sign up for a

3-day free trial

.

Sezzle Account

: To ensure seamless integration, you need an active Sezzle merchant account. Head over to

Sezzle's official website

and sign up if you don't have one.
How to Add Sezzle to Shopify: Step-by-Step Guide
Log into Shopify and go to

Settings > Payments

.

Scroll down to

Additional payment methods

, and click on the

Add payment methods button

.

In the

Search by provider

bar, enter "Sezzle" and choose it.

Click the

Activate

Button.

To proceed with the Sezzle activation, click on

Connect

to begin the installation process.

You'll be taken back to your Shopify admin, where you'll receive a prompt to

Install

the app.

Enter your Public API Key and Private API Key. You can find these details in your

Sezzle Merchant Dashboard

. After inputting the keys, click

Save

to proceed.

You can test your Sezzle integration by placing a test order and choosing Sezzle at checkout.
Additional Considerations Before Adding Sezzle to Your Shopify Store
1. Addressing Customer Queries:
After integrating Sezzle, expect customer questions about the payment method. You can address these by providing clear and accurate information about Sezzle on your site, such as FAQs, testimonials, or trust badges. You can also direct customers to Sezzle's website or customer support for more details.
2. Sezzle's Merchant Fees:
Sezzle charges merchants a fee for every transaction. It's a percentage of the sale, but considering the potential increase in conversions and sales, many find it worthwhile. Familiarize yourself with Sezzle's current fee structure.
» Explore more ways to increase traffic to your e-commerce store and boost sales.
Unlocking Shopify Sales: The Sezzle Solution
Integrating Sezzle into your Shopify store is more than a technical step—it's a strategy to cater to modern shoppers. Offering this flexible payment choice can reduce cart abandonments, increase order values, and nurture customer loyalty. As the year unfolds, staying ahead means adapting to such advancements. Boost your e-commerce game by embracing Sezzle today.