6 Best Buy Now Pay Later Apps for Your Shopify Store in 2023

By

Adeel Qayum

Reviewed by

Kirsty Macdougall
Updated June 6, 2023.
Our team independently researches and recommends the best products and services. We publish reviews that are unbiased and not influenced by payments we may receive from advertising partners.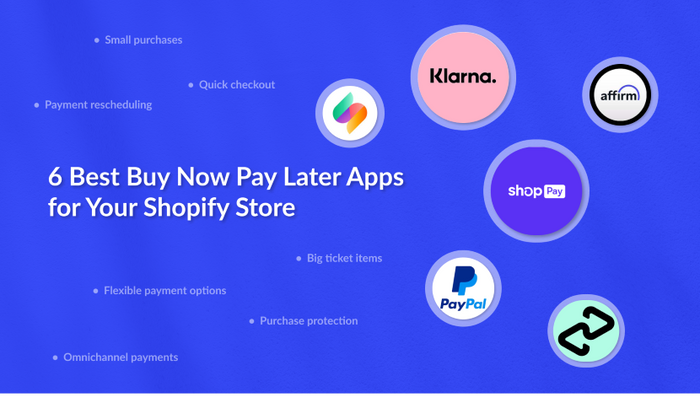 Buy Now Pay Later (BNPL) apps increase payment flexibility for your e-commerce store. Clients can make an order now and spread the payment over time while the seller gets paid instantly. In 2022, an estimated 360 million shoppers used BNPL— a number that is expected to grow to over 900 million by 2027.
Having a BNPL option for your store has numerous benefits: it can lead to more time spent on your store, reduce cart abandonment, and increase average cart value. Plus, BNPL providers facilitate the payments and take on the role of a lender while you, the seller, remain risk-free.
There is a wide selection of BNPL services available for e-commerce stores. We've selected the top six to get you started.
Our Top Picks for the Best Buy Now Pay Later Solutions
KeepShoppers Score: 9.9
Key Features
All-in-one Shopify integration

Full upfront payment, regardless of the plan

Supports order tracking
Shop Pay Installments is Shopify's native BNPL service. If you have it installed, your customers will be able to pay in four interest-free payments or monthly installments for up to 12 months, while you'll get paid instantly. It's a fully integrated solution that makes the process hassle-free for Shopify users.
Why We Liked It
You can activate Shop Pay Installments directly from your Shopify admin. Due to its native Shopify integration, this is an incredibly quick solution that offers excellent performance and loading times. Shopify's BNPL is the largest installment payment provider for US-based merchants, making it the best option for your US Shopify store.
Pros
Flexible payment plans

Simple to install

Quick checkout

Fraud protection

No hidden fees
Cons
Only available to US-based stores

Installments cost more than standard purchases
KeepShoppers Score: 9.8
Key Features
Virtual card

Loyalty program

Payment plans of up to 24 months
Klarna is a well-known Shopify BNPL solution that offers a lot to both merchants and customers. It's used by top international brands, including H&M, Sephora, Adidas, and The North Face. You can offer interest-free installments and a payment term of up to 24 months.
Klarna also has a Shopify App, Klarna On-site Messaging, to let customers know they can use Klarna and what their payments will look like. This is an extra level of service that can make a big difference in terms of building trust and loyalty with your customers.
Why We Liked It
One feature that really sets Klarna apart is its excellent flexibility when it comes to payment options. Customers can use it online or in-store in multiple ways: in 4 interest-free payments, in 30 days, in up to 24 months, or instantly. And, of course, you always get paid in full regardless of which option the customer chooses.
Pros
Internationally accepted

Low APR for long-term loans

Good security
Cons
High processing fees

Each purchase must be approved
» Want to get started? Learn how to set up Klarna for your Shopify store in no time
KeepShoppers Score: 9.5
Key Features
Various financing options

PayPal purchase protection

Soft credit check for customers
PayPal is a top pick for many businesses, especially those already utilizing it for payment processing. Simply integrate the BNPL option into your website's checkout to offer customers the option to pay in four installments or monthly. With this solution, you'll also benefit from PayPal's brand recognition and trust.
Why We Liked It
PayPal is ideal for small purchases as it offers PayPal Pay in 4 with financing options for purchases as low as $30. With interest-free installments, a maximum financing amount of $1,500, and no late fees, it provides flexibility and convenience for shoppers.
Pros
Free for PayPal users

No late fees or interest

Lower merchant fees than other BNPL solutions
Cons
Only for US merchants

No in-store support
» Not sure if PayPal is right for you? We weigh up PayPal's pros & cons
KeepShoppers Score: 9.7
Key Features
Payment within 48 hours

No credit check for customers

Purchases split into four payments
Afterpay is a popular BNPL service that allows customers to split purchases into four interest-free payments. It integrates well with Shopify, making it easy for sellers to offer this payment option during checkout. Merchants get paid for the sold items upfront, minus Afterpay's fees.
Why We Liked It
As a BNPL service, Afterpay is a great option for young shoppers. With flexible payment schedules and interest-free payments, it is the ideal choice for Gen Zers looking for affordable ways to treat themselves. What's more, the platform doesn't require a credit check, which is ideal for younger individuals without a credit history.
Pros
0% APR

Easy integration

Quick approval

Secure payments
Cons
No monthly financing plans
KeepShoppers Score: 9.5
Key Features
Soft credit check for customers

Supports long-term financing for businesses

Built-in invoicing tool
One of the younger BNPL services on our list, Sezzle, lets Shopify merchants offer the option to pay in four easy monthly installments. Customers can also reschedule payments and modify their credit limits, providing them with flexibility in managing their finances.
Why We Liked It
Sezzle is well-suited for small e-commerce stores due to its user-friendly features. Its convenient widgets and comprehensive "Setup Checklist" provide a seamless integration process, making it easy for small merchants to offer BNPL options to their customers. What's more, the company has an excellent support staff that's always ready to help and answer your questions.
Pros
Easy installation

Payment rescheduling

Assumes all risks of fraud or non-payment

Good customer service
Cons
Requires 25% down payment upon purchase
KeepShoppers Score: 9.3
Key Features
High purchase limit

Longer terms available

0% APR available

Flexible, omnichannel payments
Affirm offers a simple, no-hidden-fee way to pay for purchases with monthly installments, letting you display a monthly payment price for each item. Because this service offers high purchase limits, it functions like a more traditional loan service compared to other tools designed for smaller purchases. It also offers omnichannel payments across e-commerce and in-person stores and on the phone.
Why We Liked It
The Affirm team negotiates specific terms with each retailer, and the app can be useful for larger purchases as it allows for longer terms and higher total purchase limits—up to $17,500. The innovative Adaptive Checkout feature lets you show the customer multiple flexible and relevant payment options in one view, allowing them to make their decision easily and confidently.
Pros
Up to 48 months of financing

No late fees for customers

Integrates with 47 e-commerce platforms
Cons
Only available in North America

Higher interest rates for customers
Gain a Competitive Edge With a BNPL Solution
Buy Now Pay Later apps can offer a high level of competitive advantage to e-commerce companies. As things stand, all businesses will likely have to provide BNPL functionality to their customers to remain competitive. To run these services effectively, businesses must pick the right tool for their business.
So, which piece of BNPL software should you pick for your business? As with choosing any apps and tools for your store, the exact choice will depend on your needs. Whether you're a mom-and-pop startup or scaling to the next level, there's an option out there for everyone. Just be sure to identify your unique needs, circumstances, and goals while you're on the hunt for your ideal BNPL solution.
» BNPL is just one way to increase sales. Check out these top apps for boosting your bottom line
KeepShoppers Methodology
When deciding on which BNPL services to include on our list, we looked at these criteria:
Ease of use for merchants and shoppers

Loan terms

Interest rates

Late fees and other fees

Credit checks

Range of payment options

Customer support for merchants and shoppers

Customer reviews and ratings

These parameters were aggregated into the KeepShoppers Score you can see in each app description.