Fast Simon Review (2023): Pricing, Features, Integrations, & More!

By

Adeel Qayum

Reviewed by

Michelle Meyer
Updated June 15, 2023.
Our team tests eCommerce apps and publishes reviews that are unbiased and not influenced by payments we receive from some of the app developers.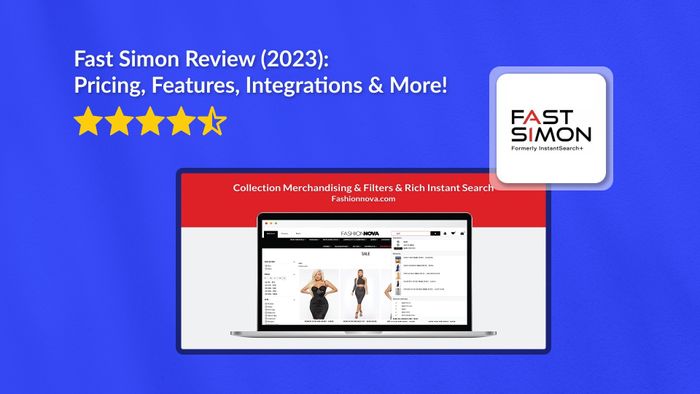 Online shopping should be an experience. All the elements of your store, from your search function to your product merchandising to your overall store design, need to work together to make each customer encounter seamless. But this doesn't just refer to convenience—you also need to make each customer feel valued by giving them a personalized journey.
This may seem like a daunting task, but don't be intimidated.
Enter Fast Simon, a comprehensive e-commerce solution that will help you optimize your customers' shopping experience. Get started with site search, personalization, merchandising, and visual discovery. Let's dive in.
Pros
AI-driven solution

Compatible with multiple e-commerce platforms

Diverse third-party app integrations

No-code page builder

Free trial & plan

24/7 expert support
Cons
Higher-level plans can be expensive for small businesses
Best for




Fast Simon is the ideal app for e-commerce stores looking to create a memorable search and discovery experience. With its smart collections and filters, personalization, and merchandising, Fast Simon gives you all the tools to delight shoppers while increasing your conversions and AOV. Don't worry if you don't have much technical expertise. Installing and configuring the app is simple, plus its no-code editor lets you easily create and design pages for your store.
Overview of Features
Fast Simon has several great features to help fortify your brand identity while building customer trust and boosting conversions. Let's take a look at the top features.
1. AI Merchandising
When it comes to merchandising, you naturally want to give specific products the spotlight—whether it's your bestsellers, new products, promotional items, or any other strategy. However, many merchants rely on guesswork when creating their merchandising strategy, which often results in missed opportunities.
Fast Simon is one of the best apps to manage bestselling products we've seen because it uses AI to take a data-driven approach to merchandising. By analyzing crucial factors like inventory, sales, margin, and more, it gives you the insights you need to make informed decisions. You'll be able to better optimize your collections, create visually captivating displays, and efficiently sort your products.
2. Personalized Customer Shopping Experiences
Today's customers are becoming more and more accustomed to personalized shopping experiences. And brands understand this: the personalization software market is expected to hit $9 billion in 2023.
With Fast Simon, you can personalize a customer's shopping experience through collections, site search, and product recommendations. It uses 1:1 AI-based personalization based on the customer's past sessions and behavior on your website, dramatically improving the accuracy of recommendations.
This means your customers are seeing what they want faster, spending less time browsing and more time buying the items they came for.
3. AI Site Search & Filters
Fast Simon's AI site search and filters help to ensure that your customers find what they're searching for as quickly as possible. This includes the Smart Collections module, which delivers AI-based recommendations across products, categories, and filters throughout your website. We think this intelligent, efficient feature makes Fast Simon one of the best conversion rate optimization apps.
At the end of the day, your customers will find what they're looking for quickly and easily, without the frustration of endless browsing and without potentially losing them due to disinterest.
4. Visual Discovery
Visual discovery is revolutionizing the way customers shop. Gone are the days of relying solely on text-based searches. Now, customers can easily find products via images.
Fast Simon's intuitive AI visual discovery suite includes features like Visual Search and Complete the Look, which enables buyers to expand their options and increase AOV.
Plus, we found that visual discovery boosted social commerce. It seamlessly integrates with your Instagram feed, letting your customers find and buy the products showcased in your posts.
5. Growth Multipliers
Fast Simon also lets you create intent-based flows that can help you expand your business. The app integrates with some of the best email marketing apps, allowing you to create tailor-made emails based on actual shopper intent.
For instance, Fast Simon's Klaviyo integration offers advanced personalization and segmentation opportunities by syncing data between the two tools. You can then leverage that information to retarget individuals who showed a clear intent to buy.


Spiceology

Case Study: Increased Sales and Conversion Rates




Spiceology is a specialist herbs and spices manufacturer and seller with over 300 signature blends, chillies, salts, and modernist ingredients. Because they cater to two distinct audiences, they struggled to create a store that's user-friendly for both. After using Fast Simon to implement visual merchandising and automatic filters, they saw these changes:
30% increase in AOV

1.5x more conversions

32% longer sessions
We love the fact that Fast Simon automatically created filters for us. Consumers are used to seeing auto-fills in search on Google, that behavior is very comfortable, and made it very easy for consumers to find what they want very quickly. — CEO of Spiceology
Plans & Pricing
Fast Simon offers a range of pricing plans for multiple platforms, including a 14-day free trial:
Don't host your store on any of these platforms? Not a problem—Fast Simon can offer you a custom solution just for your store.
Below, we look at their Shopify pricing plans more closely.
Shopify Pricing Plans
Fast Simon offers a free plan and several paid options for Shopify users. With a 14-day free trial available, you can explore the additional functionalities and benefits risk-free.
The prices below are monthly, but you can also opt for an annual billing option to save.
1. Free Plan
This basic package is ideal for early-stage D2C brands. It offers 100 monthly sessions and includes features like product filters, typo and auto-correction, AI-based instant search and autocomplete, and daily sync.
2. Starter Plan
The Starter Plan is geared towards small-and-medium businesses with a cost of $39.99/month. It offers everything from the Free plan plus 2,000 monthly sessions, custom product filters, synonymous and redirect, hourly sync, and 24/7 support.
3. Essential Plan
The Essential Plan is a better fit for small-and-medium businesses that are actively looking to scale. At $99.99/month, this package contains everything in the Starter Plan, plus 10,000 monthly sessions, advanced impact reports, collection filters, a retail pack, and SKU search.
4. Top Pro Plan
The Top Pro Plan is a good fit for large companies at $299.99/month. It includes 40,000 sessions, everything from the Essential Plan plus advanced merchandising features.
5. Growth Plan
The Growth Plan is Fast Simon's recommended option for clients. At $499.99/month, you get 100,000 sessions, everything in the Top Pro Plan, plus extra features like merchandising rules, landing pages, and upsell and cross-sell functionalities.
6. Enterprise Plan
This is a custom package best suited for high-volume businesses with specific needs. The plan includes all of the features Fast Simon offers.
Integrations
Fast Simon works with a range of third-party apps to help you with marketing, social proof, and landing pages:
Tapcart:

Create a mobile app for your business that syncs with your e-commerce store.



Klaviyo

:

Create personalized email marketing campaigns to engage and nurture your audience.



PageFly

:

Design and optimize landing pages for improved user experience and higher conversion rates.

Langify:

Reach a global audience by translating your Shopify store while boosting your SEO at the same time.

Attentive:

Increase conversions and sales with personalized SMS marketing campaigns.



Judge.me

:

Easily gather and showcase customer reviews and ratings to enhance trust and social proof.



Yotpo

:

Collect and leverage customer reviews, photos, and Q&A to drive sales and build brand loyalty.
Usability
Setting up an app for your Shopify store might seem overwhelming, but with just a few clicks, Fast Simon can enhance your visitors' experience by configuring collection merchandising and filters.
The best part is you don't need any coding skills to use Fast Simon. Whether you're a newbie or an expert, you can create personalized shopping experiences easily thanks to the app's drag-and-drop editor and pre-built templates. Finally, making any changes and optimizations is a breeze with Fast Simon's user-friendly interface.
One of the best onsite search Apps I have used in my career. Tons of features and customizations that any user can take action on. — Shopify review from Bodybuilding.com
Support
When it comes to Fast Simon support, users can rely on a range of channels, including email and phone, with 24/7 availability. Additionally, Fast Simon provides valuable resources to help you master the app effectively, including:


Blog

and

articles

:

Gain insights and stay updated with informative blog posts on creating an optimized e-commerce experience.



Community

: Engage with other Fast Simon users, gaining experiences and valuable tips.

Wiki-pages:

Access dedicated wiki pages that delve into

merchandising

and

personalization

strategies.

On-site pop-up support video

: Benefit from an on-site video resource that lets you start an audio conversation with the Fast Simon team.
Instant Search for Fast Customer Experiences
E-commerce is competitive, and customers expect a lot from their online experience with you. From personalized product recommendations and communication to quick and relevant search results, you need to tick all the boxes to win customers over. Fast Simon is a unique solution that understands this. Its powerful features can help you enhance your customers' shopping experiences while also increasing your conversions and revenue.