How to Add PayPal to Your Shopify Store in 4 Easy Steps
Boost your conversions by integrating PayPal into your Shopify store. Simple steps in our handy guide!

By

Elijah Adebayo

Edited by

Michelle Meyer
Published October 2, 2023.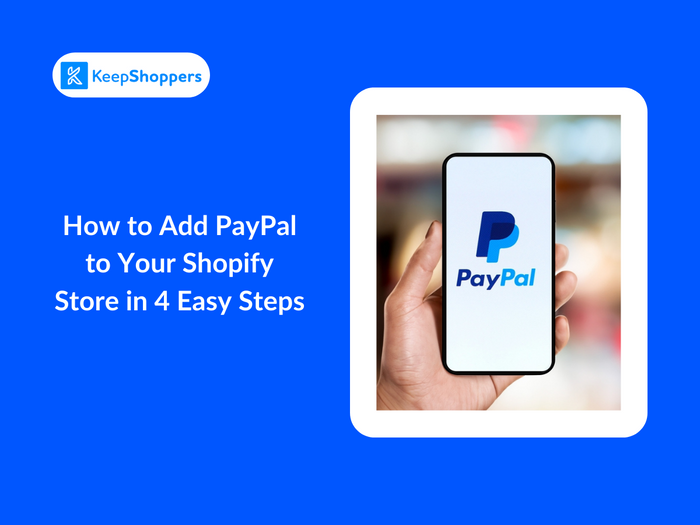 With over 430 million active users worldwide, PayPal stands tall as one of the most recognized and trusted payment platforms globally.
That's why offering PayPal as a payment option can significantly boost conversions, as customers often favor the safety and familiarity of this trusted platform. Remember the time when you abandoned a cart because your preferred payment method wasn't available?
Fortunately, adding PayPal to your Shopify store is simple and straightforward. Below, we walk you through the process in just 4 easy steps.
» Explore the pros and cons of PayPal for your Shopify business
Step 1: Accessing Shopify Admin
First, visit the Shopify website and log in to your Shopify account.

Once you have access to your Shopify admin dashboard, navigate to

Settings

in the bottom left corner of the dashboard.
Step 2: Adding PayPal as a Payment Method
Select the

Payments

option.

Scroll down to

Additional payment methods

.

Click on the

Activate PayPal

link next to the PayPal logo.
Step 3: Configuring PayPal Settings
You'll be redirected to the

Paypal Express Checkout

page.

Click on the

Activate Paypal Express Checkout

button.

Enter your PayPal email address and password.

Click the

Agree and Connect

button to allow PayPal to connect your Shopify account.
Step 4: Testing the PayPal Integration
Add any product to your cart and proceed to checkout.

Select PayPal as payment method.

Log into PayPal once you're

redirected to the PayPal login page.

Note:

Log in with a different

PayPal account than your business one

.

Check the order summary. If it's correct, your PayPal payment option is working. Simply close the window or cancel the transaction.
Remember, this process isn't supposed to charge anything. It's merely to confirm the integration.
Seal the Deal With PayPal
In the realm of e-commerce, a seamless checkout process isn't just an advantage—it's a necessity. Adding PayPal to your Shopify store is both straightforward and paramount. By embracing this integration, you're not just offering another payment method, you're amplifying customer trust and ensuring their shopping journey is smooth from start to finish.
» Considering alternative payment methods? Find out how Shopify payments measures against PayPal