8 Best Watermark Apps for Shopify: IP Protection in 2023

By

Adeel Qayum

Reviewed by

Kirsty Macdougall
Updated July 3, 2023.
Our team independently researches and recommends the best products and services. We publish reviews that are unbiased and not influenced by payments we may receive from advertising partners.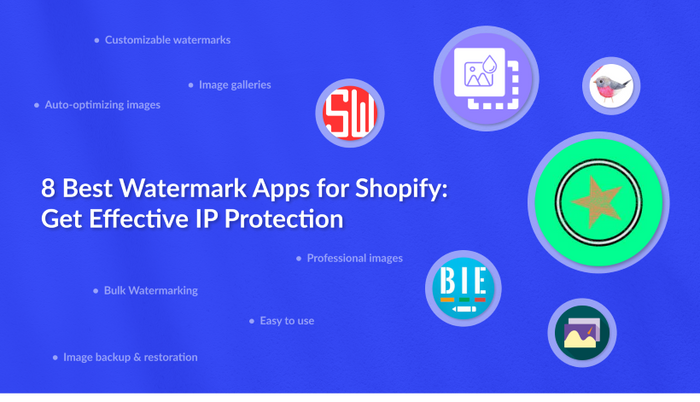 It's estimated that more than 3 billion images are shared online every day—and 85% of them are used without proper licensing. While it may not seem like a significant issue, image theft has run rampant in the e-commerce world (as well as other areas), and it's causing big problems for stores: issues like loss of brand identity, losing sales to competitors using stolen images, and damage to SEO and search rankings.
Unfortunately, disabling right clicks and keyboard shortcuts isn't foolproof in protecting images. The most effective security measure you can take is adding watermarks to your images. We've compiled a list of the top watermark apps to save you time and effort in finding the ideal one for your store.
» If store protection is a top priority, check out our best Shopify security apps
Our Top Picks for the Best Shopify Watermark Apps
1. Best Overall
KeepShoppers Score: 9.8
Key Features
Auto-watermarking

Text, logo, and sticker watermarks

Built-in previewer with editing tools
Engage is one of the top Shopify apps for watermarking. It offers a variety of pre-made stickers to choose from, and you can also use your own logo to watermark your images. Additionally, you can preview and customize your watermark, with options like bordering, resizing, and tiling integrated into the app.
Why We Liked It
We rated Engage the top watermark app for its ease of use and rich feature set. You can configure it in just a few clicks, then enjoy features like one-click bulk edits, image SEO optimization, and right-click disable to prevent image theft.
2. Best for Bulk Watermarking
KeepShoppers Score: 9.7
Key Features
Text and image watermarks

Bulk application

Revert function
Do you have hundreds of images that need to be protected? If yes, then Hextom is the ideal app for your store. This tool allows you to watermark and optimize images in bulk. You can also download those images for backup or to use in your marketing campaigns. The best part? Everything is done in a few clicks.
Why We Liked It
While we were impressed by Hextom's bulk watermarking feature, the app also has other capabilities that we found handy. For example, it lets you compress images for faster loading time, as well as resize, trim, and frame them for a more trustable and professional appearance.
» Take a look at our Ultimate Sales Boost review, another great app by Hextom
3. Best for Auto-Optimizing Images
KeepShoppers Score: 9.5
Key Features
Easy watermarking and image conversion

Auto-resizing without affecting quality

Convenient optimization dashboard
SEOAnt is another Shopify app that makes it easy to add watermarks to image assets. With a convenient optimization dashboard, it helps you secure and polish your product, blog, and collection images. Additionally, SEOAnt offers auto-resizing, which changes the image's pixel dimension without affecting its quality.
Why We Liked It
Besides being an excellent choice for auto-optimizing store images, SEOAnt is a great app for enhancing your search engine performance. It uses the on-page SEO technique of pre-loading images to increase website speed. Plus, you can optimize the image file name and alt text to improve your visibility in SERPs.
» Explore more top-rated automated photo editing apps like SEOAnt
4. Best for Ease of Use
KeepShoppers Score: 9.4
Key Features
One-click bulk watermarking

1000+ ready-made stickers

Easy to restore originals
If you are looking for an easy-to-use watermark app, look no further than Super Watermarks. It's a beginner tool that lets you apply watermarks, badges, stickers, and other labels to images in one click. With easy-to-follow instructions, you'll have secure and high-converting watermarked images in no time.
Why We Liked It
What we love most about Super Watermarks is its simplicity. But we also appreciate its vast sticker collection that gives you more options to choose from. Not to mention, the app is compatible with many devices and watermarks scale flexibility to screen, ensuring a seamless customer experience.
5. Best for Creating Professional Images
KeepShoppers Score: 9.5
Key Features
Text and image watermark

Scale, resize, trim, and other functions

File and alt-tag optimization

Preview and revert tools
AI enthusiasts rejoice! VF Image Resizer+ is a Shopify app that offers AI-based image watermarking, resizing, cropping, and more. You get many watermark text fonts to choose from. Plus, the app provides advanced compression that reduces image size while enhancing its overall quality.
Why We Liked It
From image resizing to watermarking to compression, a VF Image Resizer+ offers everything you need to create professional-looking images. Plus, it's a great app to boost SEO with features like file name and alt-text optimization included in all its plans.
» For more apps like this, check out our best picks of image-optimizing apps
6. Best for Image Backup
KeepShoppers Score: 9.3
Key Features
Image backup up to 365 days

Text-based watermarks

Auto compression and alt text update
If you want to create a backup of your watermarked images, Squirai is the perfect app for you. It offers a 365-day backup on its higher-tier plan and a 30-day backup on its free plan. You also get text-based watermarks, image compression, and SEO optimization feature in most plans.
Why We Liked It
Squirai is very easy to use, ensuring you can access your watermarked images even if you lose the originals. This watermark app optimizes all kinds of images plus automatically creates alt text for SEO gains.
7. Best for Watermarked Image Galleries
KeepShoppers Score: 9.7
Key Features
Watermarks for gallery images

CDN and lazy loading

Alt-tags for image SEO
Robin PRO is an incredibly handy tool for store owners; not only does the app create beautiful, mobile-optimized galleries, but it also lets you watermark images and link them to products. You get a simple interface where you can choose between masonry and grid layouts, along with tools to help you SEO optimize your photos for improved search engine visibility.
Why We Liked It
Robin PRO stands out from other apps due to its robust gallery tools. You can use lazy loading and CDN to load galleries fast. Moreover, you can link gallery images to products to drive conversions for your business.
» Ramp up sales with Robin PRO and these leading sales-boosting apps
8. Best for Watermark Customizations
KeepShoppers Score: 9.6
Key Features
Text, image, and logo watermarks

Position, size, and opacity adjustment

Preview feature

One-click data restore
Don't customizable watermarks sound perfect? Dinomark is a Shopify app that lets you add custom watermarks in bulk with just one click. You can tailor the size, positioning, and opacity of your watermarks, as well as preview them on any product before implementing them on your website.
Why We Liked It
We love the level of control Dinomark offers to its users. With this app, you can change logo or text placement, restore watermarks, and customize alt text format according to your needs.
Make Your Mark: Watermark Your Way to Effective IP Protection
In today's e-commerce world, it's critical to protect your brand by safeguarding your images from theft. Watermarks can play a huge role in doing this successfully. The apps on this list are the easiest way to ensure your IP is in safe hands. When choosing the right Shopify app, consider things like your inventory size and number of images, time investment, the level of customization you want, and your budget.
» Discover more of Shopify's top apps to grow your store
KeepShoppers Methodology
Here at KeepShoppers, we use a list of benchmarks for evaluating and testing the apps we recommend. Here they are:
Ease of Use:

User interface (UI); how easy the setup and configuration is; the quality & timeliness of customer support

Features:

The range of features; the extent of the features' usefulness

Design:

How professional the watermarks look; the degree of customization each app permits

Value for Money:

Whether there are free plans, features, and add-ons available; if the monthly fee is worth it

Customer Reviews:

For a more objective and holistic evaluation: how stores in different countries and different sectors rate the app
We also consider the time and resources required to make the best use of the app—more feature-rich solutions are usually more complex and require a greater time investment to learn. All of these traits are aggregated into the KeepShoppers Score you can see in each app description.