8 Best Shopify Security Apps in 2023: Protect Your Store Data

By

Adeel Qayum

Reviewed by

Kirsty Macdougall
Updated July 3, 2023.
Our team independently researches and recommends the best products and services. We publish reviews that are unbiased and not influenced by payments we may receive from advertising partners.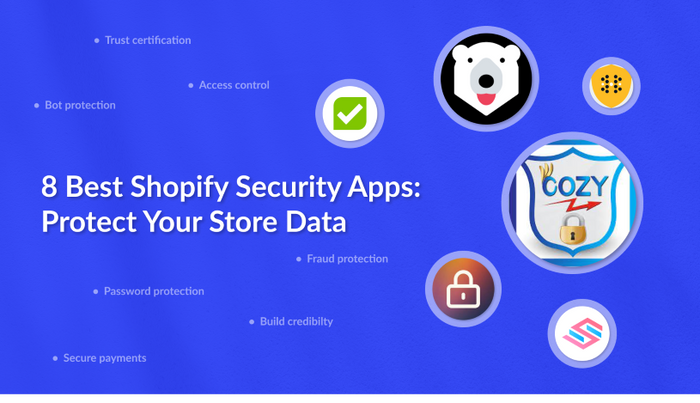 With the growth of e-commerce comes the inevitable growth of security concerns. According to research, online payment fraud alone accounted for over $40 billion in losses in 2022. But people are fighting back: the e-commerce fraud prevention and detection market is expected to surpass $100 billion by 2027. This underscores the importance of security for Shopify merchants and customers.
Shopify store owners face major security issues like hacking risks, content theft, payment fraud, and data breaches. But fortunately, there are several apps to help protect your store against hacking. Because so many are available, you may have trouble figuring out the best app to use. That's why we've done the research and testing and compiled a list of the best security apps to help you find the perfect one for your store.
» Rev up your store's success with these top Shopify apps for growing stores
Our Top Picks for the Best Shopify Security Apps
1. Best Overall
KeepShoppers Score: 9.8
Key Features
Disable right-click Copy & Paste

Disable Save As for images

Manage security using toggles
Worried that someone might steal your content? Don't fret because Cozy AntiTheft has got you covered. This Shopify security app has an array of features designed specifically to protect your valuable assets. With the ability to disable right-click, keyboard shortcuts, save as, screen printing, and more, Cozy AntiTheft makes it incredibly challenging for anyone to scrap or download your store's content.
Why We Liked It
Cozy AntiTheft earned the top spot on our list due to its exceptional ease of use and broad compatibility. With its toggle-based setup, managing security features is a breeze. Plus, its seamless functionality across all devices ensures no compromises when protecting your valuable content.
2. Best for Access Control
KeepShoppers Score: 9.6
Key Features
Lock any piece of content

Grant access with email, passcode, etc.

API access for developers
Locksmith is a great app for controlling access to different areas of your site. It lets you hide products, prices, collections, and even entire pages. This functionality comes in handy when you need to, for example, hide prices from people in certain countries or restrict exclusive discounts to loyal customers.
Why We Liked It
We like that LockSmith offers various access conditions for locked content. You can create "keys" based on conditions like customer emails, secret links, passcodes, purchase history, geographic location, and more. This allows you to tailor access permissions to your specific requirements while offering a secure and personalized customer experience.
3. Best for Showcasing Credibility
KeepShoppers Score: 9.6
Key Features
300+ badge options

Detailed styling elements

1-click placement
Lack of trust is one of the main reasons behind abandoned carts. Trust Badges Bear is a Shopify app that uses trust badges to instill confidence in your store. You can choose from over 300 badges and add your choice to any page (cart page, product page, hero or footer). Additionally, thanks to the app's detailed styling options, you can customize the badges to match your store's design.
Why We Liked It
Trust Badges Bear left an excellent impression on us with its versatile customization options and small app size. While creating a badge, you can use custom text, color, alignment, and more. And since the app is just 30kb in size, you're sure to avoid slow loading times and benefit from improved visibility.
» Take your credibility up a notch with these excellent social proof apps
4. Best for GDPR Compliance
KeepShoppers Score: 9.5
Key Features
IP blacklisting and whitelisting

GDPR consent banner

Right-click deactivation
If the EU is one of your target markets, you must ensure your store complies with the GDPR. Shop Secure is a feature-rich app that helps you become compliant with a quick GDPR consent banner. With just a few clicks, you can set up a banner that takes visitors' permission for cookies and safeguards you against potential GDPR fines.
Why We Liked It
WriteSecure Shop left a very good impression on us with its selection of features. Besides the GDPR compliance banner, you'll find options for blocklisting and allowlisting visitors from specific countries to reduce fraud. Plus, the app lets you disable right-click and even hold touch on your phone to prevent content theft.
5. Best for Content Protection
KeepShoppers Score: 9.4
Key Features
Disable right-click and save the image as

Prevent VPN access

Block visitors by country
Creating high-quality content can take days and weeks. So, it's only natural to want a solution that protects your well-crafted product descriptions and images from theft. Dakaas is a safe and reliable app that disables right-clicking and Save image as to secure your content. It also prevents keyboard shortcuts and disables long press on mobile, ensuring no one can easily scrape or copy your content regardless of the device they use.
Why We Liked It
Although we really liked Dakaas's content protection features, the app does more than that. With Dakaas, you can also block visitors with certain IP addresses or specific countries to prevent spam. Keeping fraud activity to a minimum is key to maintaining a healthy and profitable business.
6. Best for Trust Certifications
KeepShoppers Score: 9.7
Key Features
Variety of certifications and trustmarks

Shopper identity protection

Customer testimonial display
According to a Baymard Institute study, the average person's trust in a website is highly influenced by how visually secure it looks. TrustedSite is a Shopify app that increases user trust by offering a range of trustmarks and certifications. Once installed, the app verifies the security of your store and then displays trust badges to communicate its legitimacy to visitors.
Why We Liked It
When using a sales funnel, it's essential to have trustmarks in place to ensure visitors move from one stage to the next. We love TrustedSite for its ability to display trust certifications at every stage of the sales funnel. Plus, TrustedSite integrates with customer review apps, enabling you to display testimonials and boost trust and credibility throughout the customer journey.
» Build trust fast. Integrate TrustedSite with a top product reviews app
7. Best for Traffic Control
KeepShoppers Score: 9.7
Key Features
Country traffic blocker

IP allowlisting tool

Content protection features
Unwanted traffic is not a desirable situation for any store. StoreBundle is a Shopify security app that stops bots and visitors from undesirable locations from accessing your site. This helps you preserve SEO ranking and minimizes fraudulent activity on your store. Additionally, the app lets you whitelist IP addresses, ensuring legitimate customers have uninterrupted access to your content.
Why We Liked It
Besides improving website security, what impressed us the most about StoreBundle is its ability to enhance the customer experience. With a suite of marketing tools, the app lets you display multiple currencies, send thank-you messages, create product bundles, and use other tactics to boost sales.
» Don't just control traffic. Boost traffic with one of these leading apps
8. Best for Bot Protection
KeepShoppers Score: 9.5
Key Features
Bot spam protection

Suspicious order cancellation

Fake account removal
Designed with security in mind, Shop Protector is a Shopify app that monitors stores for fake accounts and form spam. Once installed, it will scan your store for known vulnerabilities and secure all forms without reCAPTCHA. Plus, Shop Protector offers checkout protection options to protect your store against bot-based checkouts.
Why We Liked It
For us, configurable rules and an analytics dashboard are the standout features of Shop Protect. These features enable you to control bot traffic and view real-time performance. Plus, the app offers 1-click bulk cancellation for suspicious orders, reducing fraudulent activity and protecting your bottom line.
Protect Your Store and Secure Your Success
To choose the right app, you'll need to consider things like your business size, target market, priorities, goals, and budget. But it's worth the work: the right app can have an invaluable impact on keeping your business safe from security issues like data breaches, content loss, and various types of fraud. When you have top security measures in place, your customers and your store will benefit from increased loyalty, reduced abandoned cart rates, and more—which all equates to increased revenue.
» Take your store to new levels of success with our best sales-driving apps
KeepShoppers Methodology
When we test and evaluate these apps, we consider specific criteria like:
Ease of Use:

User interface (UI), how easy the setup and configuration is, and the quality and timeliness of customer support

Features:

The range of features and extent of the features' usefulness in safeguarding Shopify stores

Integrations:

How many platforms and apps integrate with the app, and the value that these integrations add

Value for Money:

Whether there are free plans, features, and add-ons available, and whether the monthly fee is worth it

Customer Reviews:

For a more holistic and objective evaluation: how stores in different countries and different sectors rate the app
We also consider the time and resources required to make the best use of the app—more feature-rich solutions are usually more complex and require a greater time investment to learn. All of these traits are aggregated into the KeepShoppers Score you can see in each app description.