QuickReply.ai: Effective Social Media Marketing Through WhatsApp

By

Joel Taylor

Reviewed by

Davor Štefanović
Published June 1, 2023.
Our team tests eCommerce apps and publishes reviews that are unbiased and not influenced by payments we receive from some of the app developers.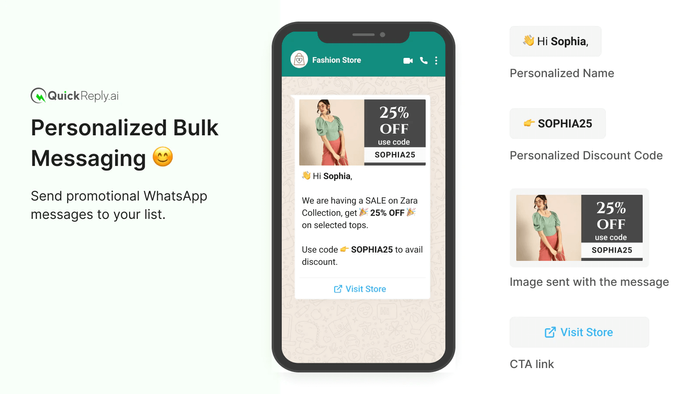 In today's fast-paced digital world, social media marketing has become a crucial aspect of businesses, with WhatsApp emerging as one of the most popular platforms for marketing. With its powerful automation capabilities, WhatsApp marketing can be as effective, if not more so, than traditional email and SMS marketing.
In this post, we'll explore QuickReply.ai, a WhatsApp marketing campaign service that integrates seamlessly with Shopify to help businesses boost their online marketing presence and sales.
Benefits of WhatsApp Marketing
Here are a few advantages of using WhatsApp for advertising:
High engagement:

WhatsApp has high open and response rates, making it a great way to engage with customers.

Personalization:

WhatsApp allows businesses to send personalized messages to customers, which can help build relationships and increase customer loyalty.

Cost-effective:

WhatsApp is a cost-effective way to reach customers, especially in regions where it's widely used.

Convenience:

WhatsApp is a convenient way to communicate with customers, as it can be accessed from anywhere with an internet connection.

Data collection:

WhatsApp can be used to collect valuable data from customers, such as feedback and preferences, which can help businesses to improve their products and services.
What Is QuickReply.ai?




QuickReply.ai is a reliable and scalable WhatsApp marketing service that offers a host of features to help businesses improve their online marketing presence. These features include automated abandoned cart messages, managing COD (cash on delivery) orders to reduce fraudulent attacks, automated order alerts and chatbot, and the green tick of authenticity, which ensures the credibility and authenticity of marketing campaign messages.
QuickReply.ai Highlight Features
1. Automated Abandoned Cart & Discounts Messages
Abandoned carts are one of the biggest causes of lost sales to e-commerce businesses, and most customers will glance over an automated email without thinking twice. Receiving an abandoned cart WhatsApp message feels more personalized and is far more likely to entice customers to return and complete their purchase.
Additionally, customers who haven't purchased anything from you in a while will be contacted with enticing offers and personalized discounts to win them back, boosting your sales and overall revenue.
» Learn how to reduce cart abandonment rates in your Shopify store
2. Manage COD Orders to Reduce Fraudulent Attacks
Persuade customers to turn their COD orders into prepaid by offering time-sensitive discounts and other offers. Additionally, use WhatsApp confirmation messages to reassure customers that your cash-on-delivery payments aren't fraudulent.
3. Automated Order Alerts and Chatbot
Customize an AI chatbot to answer customer queries and keep them satisfied with automated order alerts such as order confirmation, packed, shipped, and delivered. This way your customers are always in the loop and you can spend less time manually answering shipping and delivery queries.
4. Green Tick of Authenticity
All your marketing campaign messages will come from a WhatsApp business account that ensures credibility and authenticity.
QuickReply.ai Pricing
QuickReply.ai offers flexible pricing plans to suit businesses of all sizes. All plans are subject to additional API charges by WhatsApp.
There are a number of features included in all plans, such as a WhatsApp website widget, welcome & exit popups, rule-based segments, abandoned cart recovery messages, COD confirmation, and more. However, every plan has its own distinctive features:
Starter Plan ($35/month or $336/year)
Excel sheets

Auto resume campaigns

Email support

Conversion & engagement analytics
Standard Plan ($80/month or $768/year)
This plan offers all of the Starter Plan features, as well as:
QR code scan to WhatsApp

Promotional message frequency control

Dead audience filtering

Keyword-based response

Chatbot analytics
Plus Plan ($199/month or $2,172/year)
This plan offers all of the features of the previous plans, as well as:
WhatsApp commerce & catalog

Payment collection on WhatsApp

Custom triggers, campaigns, reports, & chatbot setups

API / payload-based personalization

NLP-based training

Chat routing & disposition

Account manager

White glove services
Final Verdict: Should You Use QuickReply.ai?
If you're looking to improve your online marketing presence and boost your sales, QuickReply.ai's WhatsApp marketing automation features are definitely worth considering. With an easy-to-use interface and flexible pricing plans, businesses of all sizes can benefit from QuickReply.ai's services. Visit QuickReply.ai's website or app store page to learn more and start using their service today.
» Discover how to further boost your revenue by reducing cart abandonment rates in our WATI review