How to Set up a Development and Staging Environment for Shopify Stores
Navigating the backstage: Crafting a secure development and staging space for your Shopify store

By

Elijah Adebayo

Edited by

Dorian Rhode
Published November 5, 2023.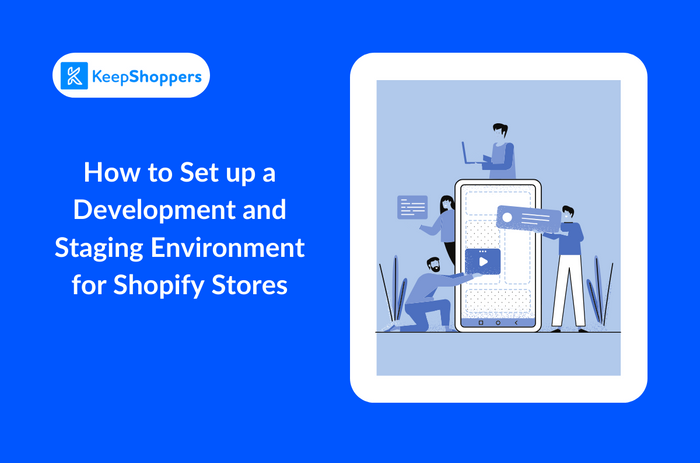 Embarking on your e-commerce journey with a Shopify store is exhilarating, but not without its challenges. A critical yet often overlooked aspect of this venture is establishing a secure Shopify development environment.
Imagine tweaking your store only to witness disruptions in real-time customer experiences—disaster! The solution is creating a meticulously developed and staged environment. This safe haven allows you to test and validate updates, ensuring zero disruptions to your live store.
Below, we navigate through creating this indispensable environment, providing a stable backdrop for all your innovative enhancements.
» Before getting started: Make sure you have a Shopify Partner account to access development stores
5 Steps to Set Up a Development and Staging Environment for Your Shopify Store
Choose a development platform or server to initiate the process

Shopify's own development store

is a prudent choice as it's tailored for the platform and offers a plethora of tools for developers. To get started, access your Shopify dashboard and click

Stores > Add store > Create development store

.

Attach a unique domain to your development store

This ensures a distinct separation from your live store, so any trials or errors during development don't bleed into your active business operations. Plus, it's imperative to ensure your staging environment isn't indexed by search engines, protecting you from duplicate content issues and keeping testing data private.

Install development tools

Equip your development store with the necessary tools and apps that align with your live store's functionality to make sure the testing environment closely mirrors the original.

Create a staging environment

Essentially a carbon copy of your live store, your staging environment lets you assess and analyze changes in a real-world scenario without impacting your active operations.

Review, confirm, and go live

Conduct a thorough review in the staging environment. Once you've confirmed every change is polished and functional, confidently deploy them to your live store.
Using Dummy Data for Shopify Store Testing
If you're still building your Shopify store from scratch and don't have any live data to test with, dummy or sample data is a good way to go. This mock data can help you thoroughly test your website in almost any capacity. You can either generate dummy data manually and import it to your Shopify store via CSV files or you can use a Shopify dummy data app, like Simple Sample Data.
Simple Sample Data allows you to:
Generate mock product data (including images), customer details, orders, and smart and custom collections.

Choose between three sample data themes: paintings, clothing and brand products, and toys and novelties.

Populate your Shopify store with dummy data in one click.
» Read this in-depth Simple Sample Data review to gain more insight
Seamless Shopify Development and Testing
Understanding and establishing a Shopify development environment is crucial to safeguarding your live store from potential pitfalls during updates and modifications. Employ this methodical shield to assure seamless customer experiences. Your secure, unswerving digital storefront awaits.