Simple Sample Data—Test Data Solution for Shopify Dev Stores

By

Rob Elgar

Edited by

Michelle Meyer
Published June 1, 2023.
Our team tests eCommerce apps and publishes reviews that are unbiased and not influenced by payments we receive from some of the app developers.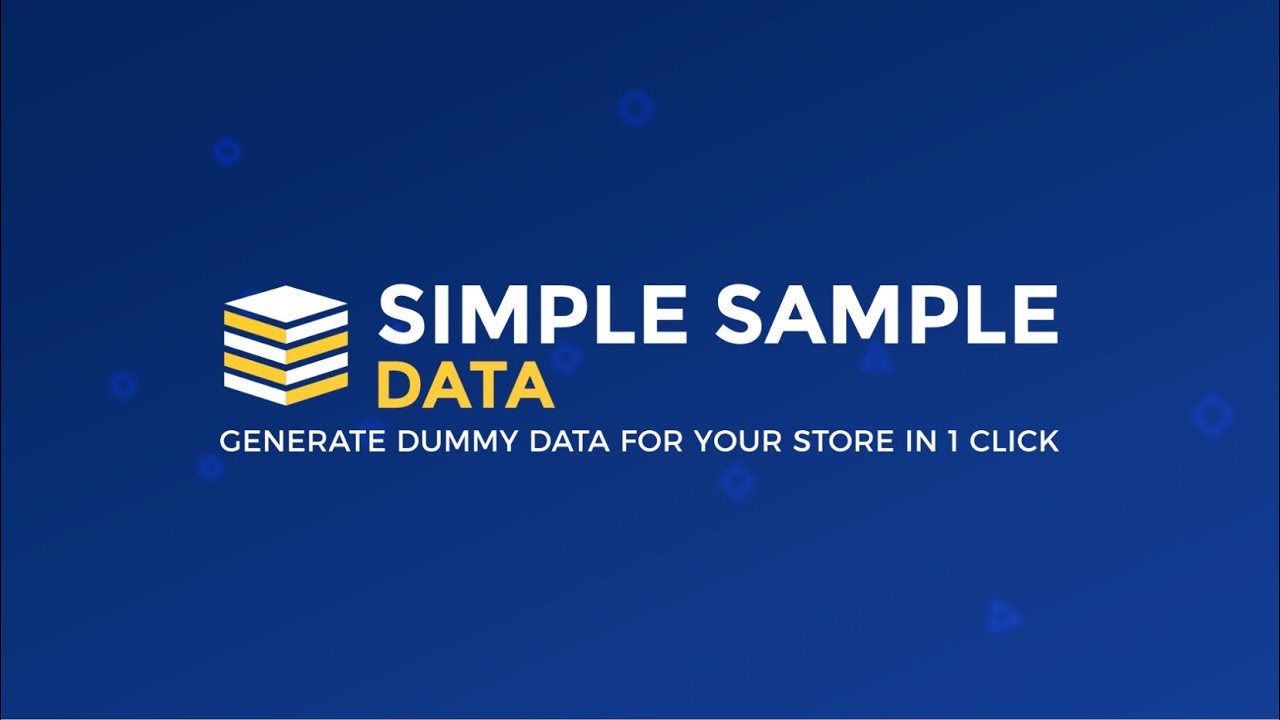 Generating sample data for your Shopify store is essential to ensure everything is running smoothly before launch. Without an extensive list of test data, your visitors could have a less-than-ideal experience.
The more data you have to analyze the better, but generating large quantities of test data can be a long and tedious task when done manually. Even with Shopify's development store, you're limited to only using free or partnered apps, and you'll need to manually add each item and collection.
Simple Sample Data is an app by Egnition that makes generating sample data as easy as a single click. The app can be used on both development stores and paid stores, where it will generate products with images, orders, customers, and smart and custom collections.
Pros
Free and paid versions available

Single-click data generation

Compatible with dev and paid stores

Outstanding customer support
Cons
Free version only available for dev stores
Who is Simple Sample Data Best for?
Whether you're a website designer working on a new theme or store and need dummy data to run tests, or an app/theme developer who is tired of constantly manually importing CSV files into each new project, Simple Sample Data can help you:
Add custom products and collections

Generate dummy orders

Test run your theme/app for issues before launch

Delete test data with a single click
Pricing
Simple Sample Data has only two pricing options: a free version and a single, paid version. Both plans include all the features of the app and are only limited by where you can use them.
Free Plan
Price

: Free

Features

: Access to all

Store type

: Only dev stores
Paid Plan
Price

: $0.99 (once-off)

Features

: Access to all

Store type

: Dev and paid stores
Features
Simple Sample Data was created to save developers and online store owners time by quickly and automatically generating test data for products, collections, and orders, thus saving time and effort.
3 Data Themes
Three data themes that include images and full details are available to use which make development stores look and feel real.
Clothing and brand products:

Supports products with multiple variants

Paintings:

Supports single product variants

Toys and novelties:

Supports single variant products.
Streamlined Data Generation
With a single click, Simple Sample Data will populate your store with test products, collections, and customers without the need to import CSV files manually. Once you're happy with your test, the data can be removed with another single click.
Custom Options
The app gives you full customization of the data that you wish to produce. You can choose to populate all the data, or simply generate customers, products and collections, or add orders. Furthermore, you can change the theme and customize your collections.
Ease of Use
Simple Sample Data is one of the easiest ways to generate test data for your online store. Because you don't need to upload CSV files, you will save valuable time.
With a single click to generate or delete data, you don't need to be a developing expert to get the most out of this app.
Although the app is relatively new, which limits the available reviews, Simple Sample Data still holds a 5-star rating on the Shopify app store.
Customer Support
Egnition is well known for their outstanding customer support, and have been praised time and time again.
The Egnition team offers a 24/7 hour support channel, 365 days a year. To reach them you can simply make use of the dedicated support icon on each of their apps, or email them at [email protected].
Egnition apps are constantly updated as the team takes note of customer responses and takes measures to improve quality, usability, and customer satisfaction.
Bottom Line: Is Simple Sample Data Worth It?
If you're an app or store developer, or simply test running a new theme or online store, manually adding sample data can burn through your valuable time.
Simple Sample Data takes all this work and turns it into a single click, thus providing you with extensive sample data, with little to no effort.
Available both on the Shopify development store and paid stores, this app is a no-brainer.