Codisto Review (2024): Pricing, Features, Integrations, & More!

By

Elijah Adebayo

Edited by

Nevena Radulović

Fact-check by

Romi Hector
Updated November 17, 2023.
Our team tests eCommerce apps and publishes reviews that are unbiased and not influenced by payments we receive from some of the app developers.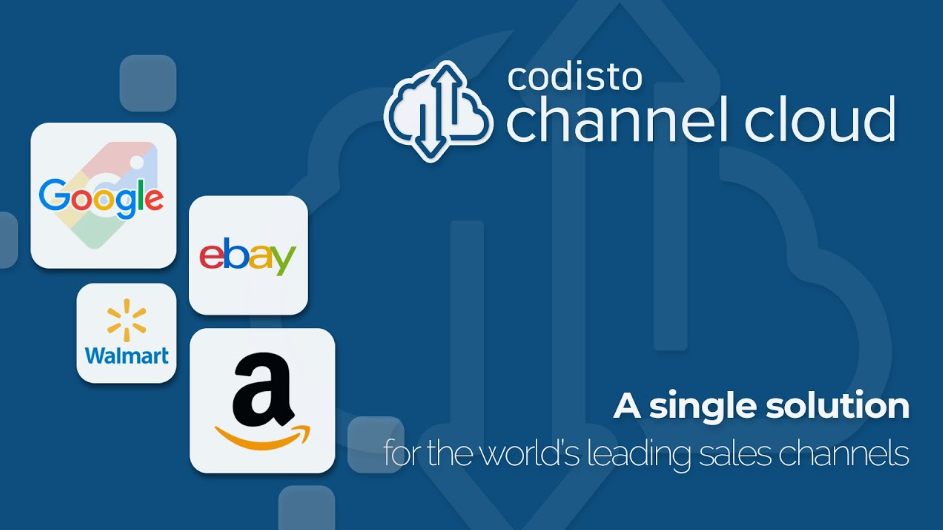 In today's cutthroat e-commerce market, your brand needs an omnichannel presence to reach a larger consumer base and increase sales. Considering that omnichannel customers spend 10% more when shopping online than single-channel shoppers, having a good omnichannel strategy in place is crucial for your e-commerce business.
To help you develop a powerful omnichannel presence, Codisto is a tool that enables you to link your e-commerce store with popular online marketplaces like Amazon, eBay, and Google. In this Codisto review, we'll examine the app's features, pricing, usability, and more to help you decide whether this is the best Shopify app for your store.
Pros
Wide range of sales channels

Seamless integration with popular e-commerce platforms

Automated sync control and image enhancement

Compatible order management and inventory systems

24/7 live support
Cons
Limited compatibility with certain marketplaces

No free plan
Best for




Codisto Amazon, eBay & Walmart is the best option for merchants looking to organize their e-commerce activities across several sales channels. The app makes it easy to integrate and optimize your listings across sales platforms like Amazon or eBay from a single central hub.
It's particularly suitable for merchants who want to minimize their risk of overselling or underselling because it offers real-time inventory sync to maintain accurate stock levels across channels.
» Explore the best Shopify apps for managing multiple stores
Overview of Features
By optimizing your e-commerce listings across multiple sales channels, Codisto can help you grow your online presence and increase conversions. To do so, the app offers the following useful features.
1. Seamless Integration
Popular e-commerce platforms like Shopify, WooCommerce, and Magento are easily integrated with Codisto. This means you can create, manage, and optimize your listings on all these platforms from a single central hub to save time and effort.
2. Listing Optimization
Codisto automatically improves your product listings by adding relevant details like titles, descriptions, and prices. Additionally, it offers some sophisticated capabilities, such as:
Automated translation

Cross-border trade

Multi-currency support
With this feature, your listings will be optimized for each sales channel, increasing your store's visibility and revenue.
3. Customizable Templates
Codisto lets you customize pre-designed page templates to produce unique, visually-appealing listings that match your brand. This can help you develop a distinctive and consistent brand identity across various sales channels.
4. Inventory Management
To help you avoid overselling, Codisto automatically syncs your inventory across all sales channels. It also offers real-time inventory management to guarantee precise stock levels. These features help streamline inventory management by offering accurate information about your stock while saving time and effort.
» Simplify your inventory management with the best Shopify apps for syncing stores
5. Analytics and Reporting
To track your performance across all channels, Codisto offers comprehensive analytics and reporting. This feature provides information on your top-selling goods, the most-used search phrases, and consumer behavior to aid in your decision-making process and help you optimize your listings.
» Improve your store's performance with the best Shopify analytics apps
Plans & Pricing
Although it doesn't offer a free plan, Codisto comes with a 14-day free trial. Once you decide to commit to one of the app's paid plans, you can choose between these tiered pricing options:
Starter Plan

($29/month)

Suitable for stores with tighter budgets, this plan offers up to 50 orders a month and unlimited listings.

Growth Plan ($59/month)

This plan comes with up to 250 orders per month and unlimited listings. Because of its affordability, it's ideal for growing stores.

Pro Plan

($99/month)

With up to 500 orders per month and unlimited listings, the Pro Plan is suitable for expanding stores with steady sales.

Power Plan ($249/month)

The Power Plan offers up to 1,500 orders per month and unlimited listings. It's ideal for larger businesses with more budget flexibility.

Elite Plan

($499/month)

With up to 3,000 orders and unlimited listings, the Elite Plan is a great choice for established businesses with advanced requirements.
» Find out how much you should spend on Shopify apps
Integrations
You can streamline and improve your marketing and performance initiatives by integrating third-party apps. To help you manage your marketing, sales, and merchandising activities from anywhere, Codisto integrates with many popular platforms, including:
» Find out how to connect your Shopify store with eBay
Usability
Codisto is remarkably easy to navigate thanks to its simple and intuitive user interface. What's more, the app guarantees compatibility with different e-commerce systems, letting you seamlessly manage your listings across various sales channels.
Support
Boasting 24/7 availability, Codisto's excellent customer support options include:
Phone support

Email correspondence

Live chat

Blog with helpful articles, tutorial videos, and FAQs
A Smarter Way to Sell on Amazon, eBay, Google, and More
Despite certain drawbacks, like its lack of a free plan, Codisto offers numerous excellent features. Some of these include real-time inventory syncing, automated listing creation, and the ability to handle numerous sales channels like Amazon, eBay, Walmart, and Google.
By using Codisto to optimize your visibility across many markets, you can enhance your e-commerce sales efforts, boost conversions, and maximize revenue.