Wix vs. Shopify: Which Is Better for Your E-Commerce Store in 2023?

By

Brody Hall

Reviewed by

Joel Taylor
Published June 1, 2023.
Our team tests eCommerce apps and publishes app comparisons that are unbiased and not influenced by payments we receive from some of the app developers.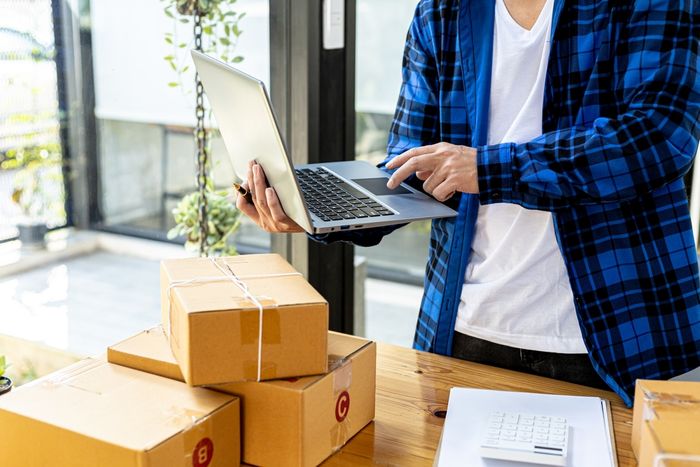 Wix and Shopify are two of the most popular platforms for designing and creating websites and online stores. Both platforms offer website hosting, e-commerce features, a wide range of themes, and a variety of integrations with popular third-party services.
To help you decide which will suit your online business's needs, we put both Wix and Shopify head to head.
Purposes of Wix and Shopify
In some ways, comparing Wix and Shopify is like comparing apples to oranges. Wix has been developed to make website design accessible to everyone, no matter their level of technical competency. This makes Wix great for creating websites of all shapes and sizes, whether a blog, portfolio, forum, or online store. While Shopify also takes this approach, it only applies to online e-commerce stores.
That being said, if you do have to choose between the two for your e-commerce store, consider the differences discussed below.
Key Differences Between Wix and Shopify
There are some key distinctions that set both Wix and Shopify apart from one another. These include:
Ease of Use
Both Wix and Shopify are simple enough to use, are accessible to people of all technical abilities, and provide great customer resources if you ever get stuck. With that said, Wix offers an intuitive drag-and-drop format that makes tweaking the look and feel of a website straightforward, giving it a slight edge over Shopify in the ease-of-use department.
That being said, Shopify's app store offers a wide range of different easy-to-use apps that can help you refine your store for both the customer and merchant experience. For example, BeProfit is an expert profit tracking and calculation app that can help organize your finances. In contrast, an app like OriginalPO's Optimized Pricing can help you define the perfect prices to charge for your products depending on various factors like competitor prices and the customer's willingness to buy.
Business Size
For small businesses like freelancers, individual sellers, and small enterprises, Wix is the best choice. Wix is slightly more affordable than Shopify, easier to set up, and requires less technical ability.
Comparatively, Shopify is better suited for mid to large-sized businesses, particularly those looking to scale and grow. As Shopify is a dedicated e-commerce CMS, it offers better sales tools and a greater range of e-commerce-based functionalities than Wix.
Creative Freedom
Hands down, Wix offers users more creative freedom than Shopify—some users even claim that it is too much freedom. With Wix's drag-and-drop functionalities, customizing one of their 800+ templates gives users limitless opportunities for creating unique designs and layouts.
That's not to say some users won't find value in Shopify's customization features. In fact, some may prefer Shopify's no-nonsense approach to website design.
Value for Money
Overall, Wix is more affordable than Shopify. Wix's pricing ranges from $14-39/month, while Shopify's ranges between $29-$299/month. Keep in mind that each pricing tier offers accessibility to unique features and functionalities, so affordability may sacrifice some areas of usability.
Analytics
Both Wix and Shopify offer a wide range of metrics that you can track and view through their analytics dashboards. Wix tracks metrics like site sessions, top pages, and average session duration. In contrast, Shopify tracks a wider range of e-commerce analytics that it uses to generate marketing, sales, and profit reports.
Customer Support
Wix and Shopify both offer 24/7 customer support through email, phone, social media, a help center, and community forums. Wix doesn't offer live chat support, and Shopify doesn't offer on-page help while users are building their stores. Overall, Wix is considered to offer a higher quality of support. Shopify does offer users a method of hiring experts from a range of different specialties that can be employed to help with just about anything users are having trouble with.
» Learn more about the best e-commerce platforms for further insights
Wix vs. Shopify Pricing
Wix Monthly Costs
Free Plan

- available for free as long as a user wants.

Combo Plan

- $14/month

Unlimited Plan

- $18/month

Pro Plan

- $23/month

VIP Plan

- $39/month
Shopify Monthly Costs
14-day free trial

Basic Plan

- $29/month

Shopify Plan

- $79/month

Advanced Plan

- $129/month
Final Verdict: Which Should You Use?
While both Shopify and Wix are good options for various purposes, each platform will be preferred by different users.
If you're a small business owner or somebody looking to build a site that is not for e-commerce, Wix is your best option. Shopify's website builder cost is less affordable than Wix, and Wix offers users a ton of customization options - great if you are a creative type.
Comparatively, if you plan to build an e-commerce store, getting the Shopify platform is worth paying the extra cost. The design-heavy interface allows for more customization than what is available on Wix, which can be beneficial if you plan to sell products that are niche or outside of the mainstream. Scalability is also in favor of Shopify, as it allows for plenty of growth.
» Shopify vs. WooCommerce: Find out which is the best platform for dropshipping