GoAffPro Review - Pricing, Features, Integrations, and More!

By

Brody Hall

Reviewed by

Joel Taylor
Updated April 18, 2023.
Our team tests eCommerce apps and publishes reviews that are unbiased and not influenced by payments we receive from some of the app developers.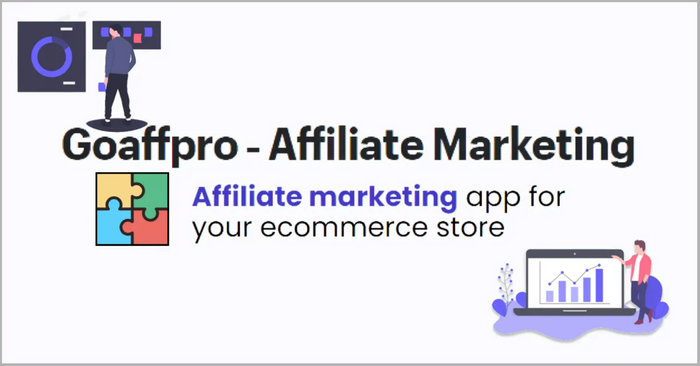 Influencer marketing is all the rage right now, and GoAffPro can help you capitalize on the trend. By simply paying one or more affiliates for each visitor or client, you can now effortlessly employ performance-based marketing and create income.
For your store, GoAffPro is a complete affiliate and influencer marketing solution that can help you develop a custom branded affiliate site in minutes. Customers are paid monetarily for posting product information on social media, and the featured app has the potential to transform your customers into marketers.
What Is GoAffPro?
GoAffPro provides businesses with a suite of tools to help them manage and optimize their affiliate marketing programs. The platform includes a range of features such as affiliate portals, analytics, multi-level marketing, and customization options, all designed to help businesses maximize their affiliate marketing ROI.
With GoAffPro, businesses can easily track and manage their affiliates, view real-time analytics, create customized campaigns, and more. The software is user-friendly, scalable, and customizable to suit the needs of businesses of all sizes, making it a popular choice among marketers and businesses looking to grow their affiliate marketing programs.
Pricing
GoAffPro offers 4 pricing plans:
Free Plan
The Free Plan offers unlimited affiliates, unlimited revenue, a branded affiliate portal, welcome emails, analytics, post-checkout popups, and mobile apps.
Premium Plan
$24 per month
The Premium Plan includes all the features of the Free Plan, plus multi-level marketing, an affiliate portal on your own domain, bulk email, advanced analytics, and 30+ customization options.
Business Plan
Starts at $89/month plus 0.9% of net affiliate sale volume
The Business package provides tailored solutions for merchants to optimize their affiliate marketing program with a comprehensive set of features and tools.
Enterprise Plan
Starts at $199/month plus 0.9% of net affiliate sale volume
The Enterprise plan offers customized solutions with custom features, a dedicated account manager, and always-on-call support.
Integrations
Highlight Features
Per product and per affiliate commission

Setup default commission for the entire site and/or different commissions for different products and affiliates. You can also exclude products from the affiliate program.

Mobile-ready with Android and iOS apps

GoAffPro is optimized for mobile, allowing you to track affiliate conversions on both mobile and desktop.

Multiple tracking methods

Track affiliate orders through referral links and coupon codes.

Real-time tracking

Receive updates and get notifications of affiliate orders in real time.

Automatic coupon codes

Track affiliate orders through automatically created and unique coupon codes.

Link sharing

Affiliates can share their links and coupons on social media, in emails, and on web pages.

Payments

Pay your affiliates via PayPal Payouts (from within the app itself) or any custom payment mode.

Multi-level marketing

Create a multi-level affiliate network with up to 10 levels of affiliates and a commission for every level.

Multilingual

GoAffPro is available in 10 languages, including French, Spanish, German, Italian, Swedish, Portuguese, and Russian.
Usability and Support
GoAffPro is a 2.0 theme that doesn't require any coding to set up. The app comes with intelligent defaults and one click is all it takes to launch your customized affiliate program. With this app, you'll get prompt responses from support. Additional tools such as FAQs and a transparent developer website make the user experience even better.
The Bottom Line: Should You Use GoAffPro?
Affiliate marketing can help you acquire more customers who might otherwise be unaware of your products. GoAffPro can increase your shop's exposure and popularity with each shared link, and the feedback loop function allows your customers to share your products with their friends and family, boosting the chances of your product going viral.
GoAffPro gives you complete control over your influencer marketing strategy. The value of a multi-level network, for example, is obvious for both merchants and affiliates. The program offers businesses a low-cost marketing alternative and guarantees they will only be charged when affiliates refer purchases to their store.