Blyp Review (2023): Pros & Cons, Features and Pricing

By

Brody Hall

Reviewed by

Joel Taylor
Published June 4, 2023.
Our team tests eCommerce apps and publishes reviews that are unbiased and not influenced by payments we receive from some of the app developers.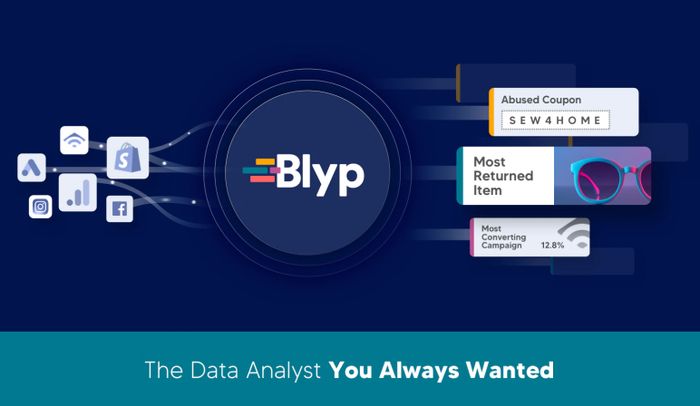 The Blyp Insights & Profit Analytics application gives a 360-degree view of your online store, providing actionable insights for businesses both big and small. The app enables you to understand the financial health, profitability, and growth of your business in real-time. With this information at your fingertips, your online business can plan better for future endeavors and drive increased profitability across your enterprise.




Pros
Blyp's AI helps automate and streamline data analysis

Saves you time, effort, and money

Leverage Google Analytics reports

Integrate with third-party tools, like Facebook Ads

Deep learning empowers users to make data-driven decisions
Cons
No dedicated mobile app for iOS or Android
Blyp Pricing
14-day free trial

$29/month for all of Blyp's features and functionalities

- cancel anytime.
Blyp also offers their customers an annual payment option. Get in contact with their support team at [email protected] to learn more.
Customer Support
Blyp's customer support team is well-trained and can be contacted for any queries or doubts. To be as accessible as possible to their customers, the Blyp team offers round-the-clock customer support via email or live chat.
Who Blyp Is Best For
Blyp Insights & Profit Analytics offers solutions for e-commerce merchants of all sizes, from small retailers to large brands. Merchants can use Blyp Analytics to get a better understanding of their customers, sales, and inventory management. The app also helps users to optimize their conversion funnels and email campaigns.
Features of Blyp
Customized Insights
Blyp is a unique platform that provides customized insights and analytics for e-commerce businesses. It helps to identify areas of improvement and track the progress of online stores. The platform also offers actionable advice and recommendations that help to boost sales and conversion rates.
Compare Your Store Against Industry Benchmarks
This allows businesses to see how they stack up against the competition, empowers online stores to price their products competitively, and, instead of shooting blindly into the dark, allows e-commerce merchants to make necessary changes based on actionable data insights.
24/7 Data Analysis
Blyp also provides 24/7 data analysis functionalities so that online businesses can see how they are performing and make changes as needed. This helps improve conversions, sales, and customer loyalty.
Blyp Ease of Use
The Blyp app is extremely easy to set up and use.
It takes less than a few minutes to sync the app with your e-commerce store. With a clean, easily navigated dashboard and intuitive user interface, Blyp makes analyzing and optimizing your online store accessible to any user, no matter their technical abilities.
But if you get stuck, simply reach out to Blyp's responsive team and they'll be more than happy to help you out.
The Bottom Line: Is Blyp Worth It?
Getting your feet wet in the world of e-commerce is easy, but establishing your position in the market and remaining successful is more of a challenge. Thankfully, the Blyp app can help you do both.
Providing e-commerce merchants with insights that they may not be on top of, such as what your customers think of your products and how you can optimize your sales channels, Blyp will help you boost your profits and grow your business faster than ever before.