Loox vs. Stamped.io: Which Is Better for Shopify Product Reviews in 2024?

By

Brody Hall

Edited by

Davor Štefanović
Updated November 17, 2023.
Our team tests eCommerce apps and publishes app comparisons that are unbiased and not influenced by payments we receive from some of the app developers.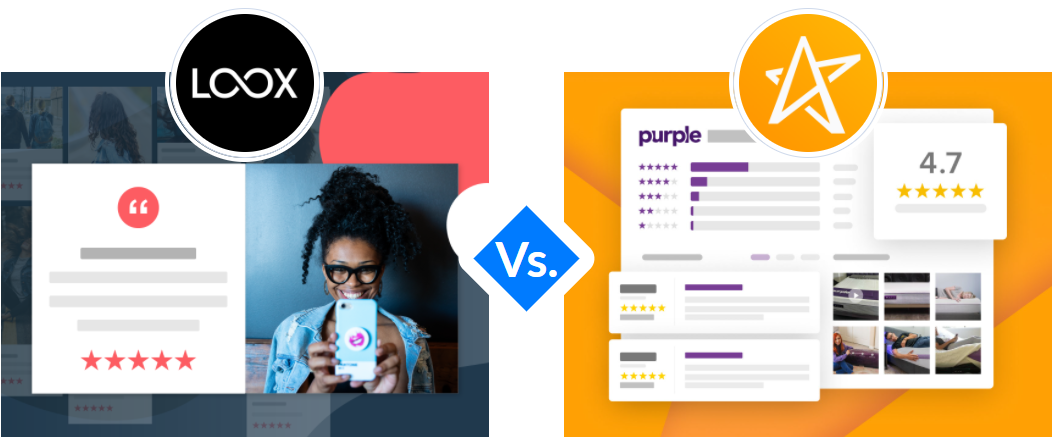 When it comes to socially proofing your online store, perhaps there are no better options than either Loox or Stamped.io. Both apps easily integrate with a wide range of e-commerce CMS platforms and third-party apps, allow customers to quickly and easily leave text, photo, or video reviews and are generally easy to use.
So which app is best for your online store's requirements?
Let's take a look.
Ease of Use
Both Loox and Stamped.io are generally easy to use.
Loox
Loox's features are usually quite intuitive and straightforward, its interface is simple and well laid out, and the app's dashboard is easy to navigate.
» Learn more by reading our comprehensive Loox review
Stamped.io
On the other hand, Stamped.io promises nothing overly complicated about its dashboard, the interface is cleverly laid out, and the app's features don't take too much getting used to.
Pricing Comparison
The Bottom Line
Both Loox and Stamped.io are similar in many different ways, although there are a few key differences that may suit some users over others. Perhaps one of the main advantages of Loox, particularly for new and up-and-coming online stores, is the app's ability to import AliExpress reviews. This function is super helpful when site traffic is still climbing or a new product has just been launched. It takes the guesswork out for customers that may otherwise be hesitant to put their faith in a product that is yet to be socially proofed.
On the other side of the coin, Stamped.io's comprehensive customer rewards program is a great way to incentivize customers to leave reviews and rate your on-site products. Without this function, your business is basically at the mercy of a customer's willingness to recommend a product, which oftentimes isn't very forthcoming.
When deciding between Loox vs. Stamped.io, both are great options for boosting customer trust, social proof, and nullifying purchase hesitancy. Your final decision is going to come down to one or two features that either app possesses or perhaps the monthly cost of using their services.