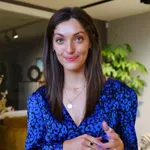 Courtney Sharp
Expertise
E-Commerce, Marketing, Brand Management, Digital Strategy
Education
MSc Applied Digital Media from Griffith College Dublin, BSBA Marketing from the University of Tennessee at Chattanooga
Experience
Courtney holds a master's degree in applied digital media and has a strong background in digital strategy, marketing, and brand management, specifically within the e-commerce space. Her work as the founder and CEO of Sharp Media Agency involves digital marketing, branding, ads, and social media. She has helped to grow the marketing and e-commerce departments for various SMEs across Europe, showcasing her expertise in brand strategy and channel expansion.
About KeepShoppers' Editorial Process
At KeepShoppers, our teams of expert writers and editors are committed to providing practical information to accelerate your e-commerce business. We fact-check our content to ensure relevance and accuracy. We only source content from reputable sites and research institutions. Our content is rigorously reviewed before publication and upon considerable updates.
Latest from Courtney Sharp